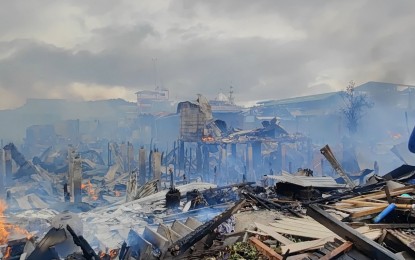 MANILA - Department of Social Welfare and Development (DSWD) Secretary Rex Gatchalian on Friday ordered the Zamboanga Peninsula regional office (Field Office 9) to render immediate assistance to some 1,000 individuals affected by the big fire in Bongao town in Tawi-Tawi province.
Gatchalian gave the directive to FO-9 Regional Director Riduan Hadjimuddin upon learning that the huge fire that started at 1:40 p.m. on Thursday razed some 100 houses along Kahapon Street, Barangay Poblacion, according to a DSWD news release.
The DSWD chief also directed Hadjimuddin to coordinate with the local government for the efficient delivery of food and non-food items to the fire-affected residents.
Hadjimuddin assured Gatchalian that they have already prepared 1,000 boxes of family food packs; 1,000 sleeping kits; 1,000 family kits; 1,000 hygiene kits and 150 modular tents.
"We have already coordinated with the OCD (Office of Civil Defense) for the transporting of these goods to Bongao," Hadjimuddin said in his report.
The municipality's territory includes Bongao Island (where the poblacion is located), Sanga-Sanga Island, Pababag Island, as well as the western end of Tawi-Tawi Island.
Hadjimuddin said they have coordinated with the Municipal Social Welfare and Development Office of Bongao to facilitate psychosocial support for the affected families.
Region 9, or the Zamboanga Peninsula Region, covers the three provinces of Zamboanga del Norte, Zamboanga del Sur, and Zamboanga Sibugay, as well as the highly urbanized Zamboanga City and the component city of Isabela. The regional center is the City of Pagadian.
The DSWD's FO-9 has operational jurisdiction over the provinces of Tawi-Tawi and Sulu. (PNA)