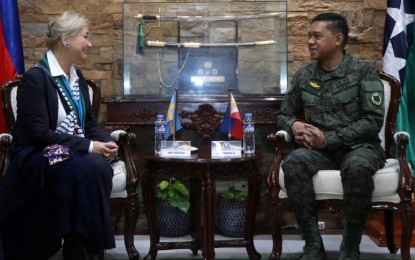 MANILA – The country's plans to acquire multi-role fighters (MRFs) and recent developments in the West Philippine Sea (WPS) were some of the topics discussed by Armed Forces of the Philippines (AFP) chief Gen. Romeo Brawner Jr. and Sweden Ambassador Annika Thunborg following their meeting Friday.
"The CSAFP (Chief of Staff AFP) and Ambassador Thunborg discussed the acquisition of multi-role fighters and the recent developments in the West Philippine Sea. The Ambassador likewise expressed that Sweden stands firmly behind the Philippines in the protection of its territory and territorial integrity as well as the international rules-based order and the 2016 Arbitral Award," AFP public affairs office chief Lt. Col. Enrico Gil Ileto said in a statement.
The meeting took place at the AFP Headquarters in Camp Aguinaldo, Quezon City. Sweden's Saab JAS-39 "Gripen" is considered one of the top two contenders for the Philippine Air Force's MRF acquisition project with the other jet fighter being the US Lockheed Martin F-16V "Viper".
During the meeting, the two officials also discussed the modernization of the AFP and the role of like-minded nations both in building a credible armed force for the Philippines and in pursuing the rules-based international order in the WPS.
"In their exchanges, Gen. Brawner Jr. also expressed his hope that China will cease its illegal activities in the West Philippine Sea and that the Philippines has a right in maintaining the integrity of BRP Sierra Madre," Ileto said.
Brawner also said that the AFP will not allow China to dictate on what to do on the outpost which symbolizes Philippine dedication to its sovereignty.
"The CSAFP said the AFP will not allow China to dictate on us on what we want to do in that post that has become a symbol of our dedication to our mandate as protector of the people and the state and our commitment to our soldiers who are stationed there," Ileto added. (PNA)