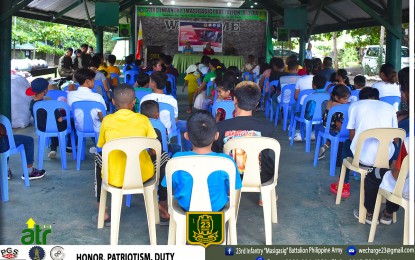 BUTUAN CITY – Former rebel (FR) "Abel" has no remorse for leaving the communist movement and going back to mainstream society early last year.
Along with his children, aged 5 years and 8 years, they attended a gift-giving event on Friday for 80 children and dependents of former rebels of the New People's Army - Communist Party of the Philippines.
The activity, held at the Army's 23 Infantry Battalion (23IB) headquarters in Barangay Alubihid, Buenavista, Agusan del Norte, was spearheaded by the 23IB, the provincial office of the Department of the Interior and Local Government, and the provincial government.
"The government is true to its promise to help us renew our lives as we return to our communities and live peacefully with our families," Abel said in a phone interview on Saturday.
The children received food packs, clothing, hygiene kits, and other essentials for daily use, according to 2Lt. Andy Ledesma, chief of the 23IB Civil-Military Operations.
"The gift-giving was a way of providing support and assistance to the children who were once affected by armed conflicts and also once abandoned when their parents were active inside the Communist Terrorist Groups in the area," Ledesma said in another phone interview.
"The gifts were properly selected and packaged to ensure that they cater to the specific needs and preferences of the children from toddlers to teenagers."
Lt. Col. Jeffrey Balingao, 23IB commander, said the distribution of the FRs' benefits under the Enhanced Comprehensive Local Integration Program is ongoing.
"The interventions of the national agencies and the local governments really matter as we work hand-in-hand in preparing our FRs in reintegration to their communities and families," Balingao said in an interview. (Alexander Lopez/PNA)