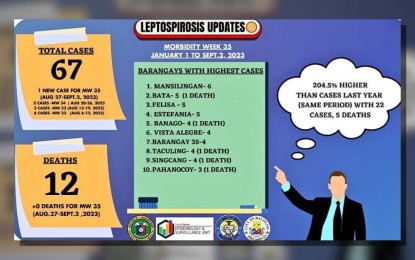 BACOLOD CITY – Continuing risk factors have caused an increase in cases of leptospirosis here by 204.5 percent from Jan. 1 to Sept. 2 this year compared to the same period in 2022, a report of the City Health Office (CHO) on Monday showed.
Since the start of the year, there have been 67 reported leptospirosis suspects, of which 55 cases are alive and 12 are deaths, while last year, there were only 22 cases, including five that expired.
"Some 70 percent of cases have declared exposure or contact with contaminated water or the ground," Dr. Grace Tan, head of the CHO Environment Sanitation Division, said in the report.
Leptospirosis is a bacterial infection caused by the leptospira spirochetes bacteria contracted through the urine of infected animals, especially rats.
Exposure to flood waters can cause infection, especially in those with cuts, wounds, or abrasions on their skin.
Tan said delayed health-seeking behavior and denial of infection are the most common reasons for complications and death due to leptospirosis.
The two latest deaths were recorded from Aug. 27 to Sept. 2.
Barangays 16, Taculing, Banago, Handumanan, Villamonte, Bata, Pahanocoy, Granada, Singcang-Airport, and Tangub recorded one death each, while Barangay 14 had two.
Of the 12 deaths, the last three whose ages ranged between 20 and 35, were exposed to flood or drainage water and contaminated water, the CHO report said.
In its advisory, the CHO encouraged both adults and children to take leptospirosis prophylaxis, as soon as possible following exposure or wading or contact with possibly contaminated water or ground and consult immediately at the nearest health center or private medical doctor.
"Keep environment clean at all times. Uncovered and unstored food keeps rats alive and garbage is their best breeding ground. Segregate and manage garbage appropriately," it also said.
The CHO also reminded city residents to avoid wading or coming in contact with flood water or any damp, dirty ground, soil, or water as this may have leptospira organisms.
"Be involved in the prevention and control of rat population control. Also, report to the barangay any uncovered manholes or ditches or open canals or septic vaults," it added. (PNA)