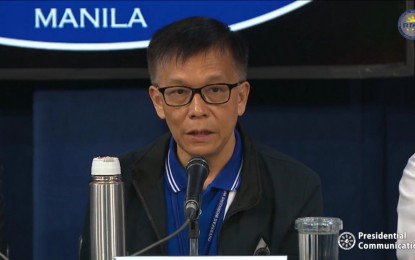 MANILA – The Catholic Bishops' Conference of the Philippines-Episcopal Commission for the Pastoral Care of Migrants and Itinerant People (CBCP-ECMI) on Monday vowed support for Undersecretary Hans Leo Cacdac who was named officer-in-charge (OIC) of the Department of Migrant Workers (DMW).
"We, in the CBCP Episcopal Commission for the Pastoral Care of Migrants and Itinerant People, Stella Maris-Philippines, have known him as a dedicated and devoted public servant. He thinks for the well-being of migrants, speaks for their good, and works for the welfare of OFWs, both land-based and sea-based workers," CBCP-ECMI vice chair and Antipolo Bishop Ruperto Santos said in a statement posted on the Diocese of Antipolo Facebook page.
Santos said the commission is a witness to Cacdac's unwavering commitment to upholding the welfare of Filipino workers abroad.
"We offer our support and extend our hands to protect and promote the rights and dignity of our dear OFWs. Eventually, we hope and pray that he will become the Secretary of DMW," he added.
Earlier, Cacdac vowed to implement new programs for the welfare of OFWs.
"Among the key priorities we hope to address in the coming months include getting our proposed PHP15.542 (billion) expenditure program (the proposed DMW 2024 budget) approved by our lawmakers; strengthen the One Repatriation Command Center (ORCC) and our anti-illegal recruitment and human trafficking efforts; provide legal, medical, and humanitarian assistance through our PHP1.2B AKSYON Fund," he said in a statement.
Cacdac said he would also push for the establishment of 17 DMW regional centers and four more Migrant Workers Offices (MWOS) overseas.
He also vowed to work for the filling up of nearly 1,000 plantilla positions of DMW, the enhancement of a full-cycle reintegration program for OFWs, continued engagements with host countries and entering into new and more equitable bilateral arrangements that protect the rights and welfare of Filipino migrant workers.
He promised to continue the policies of his predecessor, the late Secretary Susan "Toots" Ople.
"As we remain in grief and mourning over the loss of our dearest Secretary Toots, we adhere to her constant reminder that there is so much to be done, with so little time. Indeed, our dear OFWs expect no less from each and every one of us here at the DMW, their home in government," he added.
On Sept. 6, President Ferdinand R. Marcos Jr. named Cacdac as DMW OIC, replacing Ople who died of cancer on Aug. 22. (PNA)