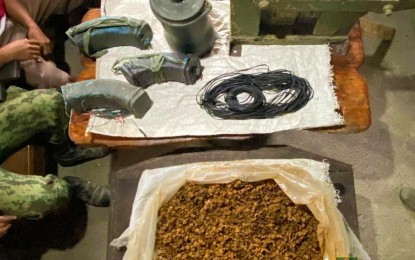 TACLOBAN CITY – Four members of the New People's Army (NPA) in Las Navas, Northern Samar, surrendered to the Philippine Army on Sunday and turned over several firearms and explosives.
The Army's 3rd Infantry Battalion said aliases Rex and Jayson surrendered on Sunday and disclosed the location of an arms cache in upland San Isidro village in Las Navas town.
Lt. Col. Isidro Vicente, the Army's 3IB commander, said in a statement Monday that government troops found an M16 rifle with three long and two short magazines containing a total of 113 rounds of 5.56 ammunition, a water pump machine, an anti-personnel mine housing, 40 kilograms of rice, grocery items, materials used for explosives, a solar panel, six android tablets, three mobile phones, batteries, and subversive documents.
"We welcome the voluntary surrender of these two rebels, relinquishing substantial war materials and long-held explosives. This event underscores our commitment to continuously provide essential services to the community through collaborative efforts with village officials," Vicente said.
The two surrenderers are now in the custody of the military, where they are undergoing assessment and debriefing as part of their application for the government's assistance.
On Sept. 8, two other armed rebels identified as aliases Okies and Rafael surrendered to the troops of the 3rd Infantry Battalion.
They belonged to the NPA's front committee 1, sub-regional committee emporium of the Eastern Visayas Regional Party Committee.
They turned in anti-personnel mines, 2,000 ammunition link belts of a M60 machine gun, a manual rod cutting machine and a 20-meter tripping wire.
The surrender of NPA members has been attributed to the local peace engagement wherein the government troops held series of dialogue with the family of the active NPA combatants to encourage their family members to return to the fold of the law. (PNA)