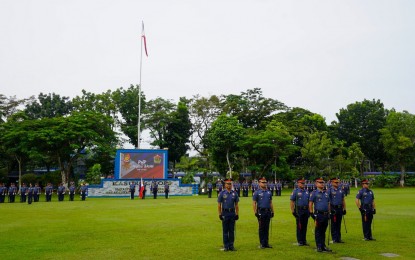 LEGAZPI CITY – Some 475 police officers with relatives who are candidates in the Barangay and Sangguniang Kabataan Elections (BSKE) on Oct. 30 were reassigned to different provincial police offices (PPOs), the Police Regional Office-5 (Bicol) said on Monday.
In an interview, Lt. Col. Malu Calubaquib, PRO5 spokesperson, said the 475 personnel's new assignment would be from Sept. 8 to Nov. 7.
"The reassignment of personnel with family ties to candidates is a standard practice in the organization. It serves to prevent any potential misuse of police resources or influence by politicians seeking favor during electoral processes," Calubaquib said.
She said the reassigned personnel from the PPOs have taken various posts in the municipal and city police stations.
"We vow to uphold non-partisanship and ensure the integrity of the forthcoming Sangguniang Kabataan elections," Calubaquib said.
PRO5, she added, ensures its readiness to secure the barangay elections, with a primary objective of achieving a violence-free electoral process.
"Various security measures are already in place, including the aggressive campaign against private armed groups and the crackdown on loose firearms. PRO5 remains dedicated to its duty of ensuring the safety and security of the community during these elections and beyond," Calubaquib said.
In a statement, PRO5 Regional Director, Brig. Gen. Westrimundo Obinque said they remain committed to maintaining an impartial and unbiased stance in the upcoming elections.
"We call upon the cooperation and support of the public in fulfilling our shared commitment to upholding the democratic principles that are the foundation of our society," he said. (PNA)