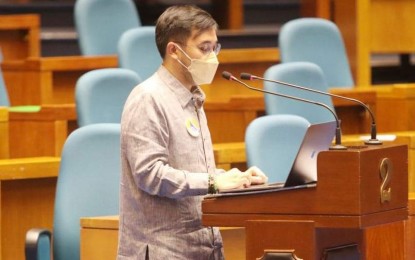 MANILA – As the country celebrates the Philippine Creative Industries Month (PCIM), a House leader on Monday called for the augmentation of the budget allocation for the creative industries under the proposed 2024 national budget.
In a privilege speech during the plenary session, House committee on creative industries chair Christopher de Venecia said there was a total allocation of PHP410 million in the previous General Appropriations Act (GAA) for the promotion and development of the creative industries through the Malikhaing Pinoy Program.
De Venecia, however, pointed out that the proposed budget for the sector in the 2024 National Expenditure Program is PHP50 million.
He emphasized the need to augment this budget to equal if not higher than the 2023 GAA to capitalize on the strength of the creative sector and help improve the conditions of creative workers.
"While we continue to reach milestones, there is more work to be done. It is for this reason that we continue to explore ways and means of bringing to the fore and addressing the needs of the creative industries. But these initiatives require resources--for which I respectfully and earnestly appeal for a substantial increase in the budget allocation of the creative industries," he said.
He said increasing the budget would also help achieve the goals of the Philippine Creative Industries Development Act to make the Philippines the number 1 creative economy in ASEAN by 2030.
De Venecia pointed out that the creative industries are a "wellspring of economic growth", explaining that the sector contributed 7.3 percent of the country's gross domestic product (GDP) or PHP1.6 trillion in 2022, representing an increase of 12.1 percent from PHP1.43 trillion in 2021.
"The creative industries are indeed the fastest developing sector in the world. So much so that the Philippine Development plan 2023-2028 mentioned and discussed the creative industries over 80 times highlighting their growing contribution to the country's economic development," he said.
De Venecia, meanwhile, lauded President Ferdinand R. Marcos Jr. for his steadfast support to the promotion and development of the creative industry as a driver of economic growth and the country's post-pandemic recovery.
"He (Marcos) stated that the creative industries, among others, will drive the quality and competitiveness of our workforce in existing markets and in new ones waiting to be explored," he said.
The industry currently employs more than 7 million Filipinos. (PNA)