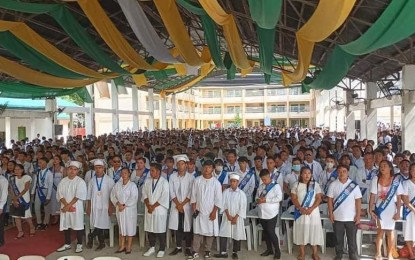 ILOILO CITY – A total of 158 persons deprived of liberty (PDLs) in Iloilo City have finished school amid the health pandemic through the Alternative Learning System (ALS) of the Department of Education (DepEd).
The PDLs, consisting of 87 men and 71 women, were enrolled with the ALS in various school years from 2019 to 2023. One graduated from a basic literacy program, nine from elementary and the rest graduated from junior high school.
Due to security reasons, they were unable to join the graduation and moving-up ceremony for the ALS passers on Sunday afternoon and will have their separate activity on Sept. 15 at the Iloilo City District Jail of the Bureau of Jail Management and Penology (ICDJ-BJMP) in Barangay Ungka in Jaro district, said Iloilo City Schools Division Superintendent Ma. Luz de los Reyes in an interview on Tuesday.
De los Reyes said including non-PDLs, the schools division has a total of 2,271 completers and graduates.
Those non-PDLs, however, were enrolled in school years 2021-2022 and 2022-2023.
The health pandemic has contributed to the delay in their graduation aside from the switch to portfolio assessment from the previous accreditation and equivalency exam (A&E) or the pencil and paper test.
"The ALS has been attractive to our out-of-school youths," De los Reyes said, adding it could not be avoided that there are children who started families early only to realize later that they needed education to have jobs and help their families.
Others who enrolled were household helpers, freelancers, and even those whose parents lost their jobs.
The ALS, she added, allows them to go back to school on a flexible mode, usually on a Saturday or Sunday.
"ALS is a flexible learning option for children, especially the overage. So if you are overage you have the opportunity to go back to school on a flexible mode, not on a daily-basis like our regular students," she said.
De los Reyes said there are DepEd mobile teachers who cater to them whether they opt to go to community centers or schools.
With the case of PDLs, teachers and facilitators are assigned to conduct classes inside the jail facilities.
The oldest for this year's batch was 76-year-old Nelida Losabia, who enrolled at the Ramon Avanceña National High School in Arevalo district in junior high school.
Losabia, in her message during the ceremony held at the Iloilo City National High School (ICNHS), emphasized that old age should not be a reason for one not to finish school.
She enjoyed going to school because, other than learning, she also got an allowance from her children.
De los Reyes said they are looking at clustering their enrollment given the large number of students interested in availing of the ASL. (PNA)