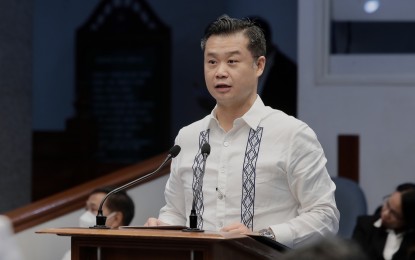 MANILA – Amid continuing tensions in the West Philippine Sea, a lawmaker has filed a bill that will set the country's maritime boundaries and at the same time define the country's maritime zones, harmonizing domestic laws on maritime territory with the 1982 United Nations Convention on the Law of the Sea (UNCLOS).
In filing Senate Bill 2394 on Aug. 7, or The Philippine Maritime Zones Act, Senator Sherwin Gatchalian said by declaring the Philippines' maritime zone boundaries, the country will be fortifying the geographical extent of its maritime domain.
He said this will provide guidance for Filipinos as well as the country's armed forces and civilian law enforcers on the rights and entitlements of the country's different maritime zones and enable the country's maritime institutions to advance national interests.
"The proposed measure seeks not only to update existing Philippine maritime laws but more importantly delineates and emphasizes our maritime zones and boundaries," Gatchalian said in a statement on Tuesday.
He said when the country signed and ratified UNCLOS in 1982 and 1984, respectively, it was intended as a step towards strengthening the Philippines' legal and institutional framework for maritime governance and claim for maritime zone allocations as an archipelagic state.
"However, it does not stop with the country's adoption of the UNCLOS as there is a need to harmonize existing Philippine laws with the UNCLOS and establish the legal regimes and geographical extent of these maritime zones in accordance with UNCLOS," he said.
Under his proposed measure, the country's maritime zones comprise the internal waters, archipelagic waters, territorial sea, contiguous zone, exclusive economic zone (EEZ), and continental shelf in accordance with international law.
The bill also defines the extent of the country's territorial sea at 12 nautical miles, contiguous zone at 24 nautical miles, and EEZ at 200 nautical miles.
To enhance the Philippines' national security and protect its economic and environmental interests, Gatchalian also recently filed another bill -- SB No. 2395 or the Philippine Archipelagic Sea Lanes Act.
The House of Representatives approved on final reading in May this year its version of a proposed measure creating the country's maritime zones.
The Philippines secured in 2016 a landmark arbitral ruling that China's claim on the so-called nine-dash line over the West Philippine Sea had no basis in law and without legal effect. (With a report from Leonel Abasola/PNA)