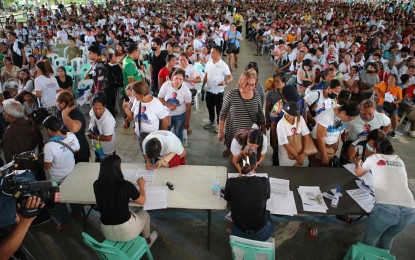 MANILA – The chairperson of the House Committee on Appropriations on Tuesday reminded government agencies to comply with the spending ban in relation to the Barangay and Sangguniang Kabataan Elections on Oct. 30.
In a statement, Ako Bicol Party-list Rep. Elizaldy Co said the cash and non-cash aid distribution of social welfare projects to intended beneficiaries should be done before the current week ends because the spending ban starts on Sept. 15.
Co, meanwhile, noted that the ban on public works, the Department of Social Welfare and Development's Assistance to Individuals in Crisis Situations program, and barangay social welfare projects is from Oct. 20 to Oct. 30.
"Earlier this year, we already issued a reminder on the spending ban period. All agencies should have planned way ahead of time. The spending ban cannot be an excuse for being unable to spend their budgets given this year," he said.
Co explained that budgets carried over from last year due to continuing authorization must be spent this year, or the unspent funds shall be returned to the National Treasury.
"Unspent budgets in large amounts ranging from hundreds of millions to billions of pesos will catch the attention of us in Congress because those amounts represent projects and programs that should have improved the lives of targeted beneficiaries," he said.
He also warned government officials that cash and non-cash aid distributions during the spending ban period constitute an election offense and will be punishable by imprisonment of not less than one year but not more than six years, among other penalties provided for by law, like disqualification to hold public office and deprivation of the right to suffrage. (PNA)