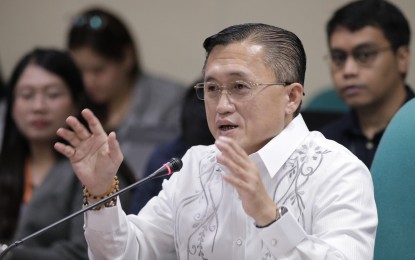 MANILA – Senators on Tuesday urged the Games and Amusement Board (GAB) to boost its campaign against game-fixing and other illegal gamblings in professional sports.
Senate Majority Leader Joel Villanueva, who is a basketball enthusiast, admitted that it is hard to prove "beyond reasonable doubt" cases of game fixing, but suggested that GAB to strengthen its coordination with other law enforcement agencies in its campaign.
"As a basketball player, when you practice every day, there are times na off-game ka. Pero yung iba kasi ano eh, talagang (that you're off-game. But others are really) unbelievable like my God, why are you doing that? I mean, as a basketball player, you already know that something is going on," Villanueva said also citing online illegal gambling during the Senate budget deliberation of GAB.
GAB Chairperson Richard Clarin responded that they have the full support of the National Bureau of Investigation and the Philippine National Police, as well as strengthening its partnership with legal gambling operators.
"One is to make sure that we support the legal gambling. Kasi po kapag mas marami po yung mga legal na may-ari ng mga (Because if there are more legal operators of) gambling sites, they will police themselves. They will protect themselves," Clarin explained assuring that they also have the support of some online groups.
Senator Christopher Lawrence Go, who presided the deliberation, also called on GAB to get rid of game-fixing and the proliferation of illegal drugs in the sports industry.
In professional basketball leagues, Clarin also assured that they are closely working with league operators to get rid of game-fixing.
"Kaya naman po. Kung hindi man natin masasampahan ng kaso (We can handle it. If we can't file cases), there are other disciplinary measures that they can impose as owners of the league and in Games and Amusement (Board) also since we issue licenses. We also have the quasi-judicial power to suspend licenses," he said.
From January to August this year, GAB recorded 89 arrests with corresponding legal actions.
The GAB, proposing to spend PHP147.243 million in 2024, is tasked to regulate professional sports and allied activities and combat the proliferation of illegal bookie joints and other forms of unlawful gambling connected with all play-for-play sports and amusement games. (PNA)