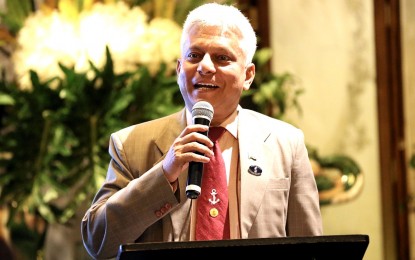 MANILA – A joint oil exploration activity between India and the Philippines in the West Philippine Sea is feasible the same way New Delhi did with another Southeast Asian nation in the region, an Indian expert said Tuesday.
"I don't see any hurdles or problems in India and Philippines cooperating within your exclusive economic zone (EEZ) and doing joint exploration," National Maritime Foundation of India Executive Director Debesh Lahiri told reporters on the sidelines of the Stratbase-organized Philippine-India Track 2 Maritime Dialogue in Taguig City on Tuesday.
"We can always reach out and be a friendly partner with the Philippines in that aspect," he added.
In Southeast Asia, Lahiri said India's oil and gas company Oil and Natural Gas Corp. (ONGC) Videsh has already engaged Vietnam and conducted oil exploration operations in the South China Sea.
ONGC Videsh is the overseas arm of India's top oil company ONGC that earlier secured its eight extensions for the exploration of Vietnam's "Block 128" in the South China Sea.
At present, the depleting Malampaya gas field is the Philippines' only domestic commercial source of natural gas, accounting for about 20 percent of the country's total power requirement.
During the 5th India-Philippines Joint Commission on Bilateral Cooperation in New Delhi in June, the two states agreed to work together and further strengthen their bilateral partnership.
No mention of possible cooperation in the area of energy was mentioned but Foreign Affairs Secretary Enrique Manalo and his Indian counterpart External Affairs Minister of India Dr. S. Jaishankar, in the same meeting, "agreed to encourage their companies to sustain their engagement and explore new investment opportunities".
PH Navy sees more tie-up with India counterparts
As this developed, the Philippine Navy (PN) is looking to have more interaction with its India counterparts following the visit of the National Maritime Foundation (NMF) of India delegation headed by its executive director, Commodore Debish Lahiri, at its headquarters at Naval Station Jose Andrada, Roxas Boulevard, Manila on Sept. 11.
The delegation also rendered a courtesy call to PN vice commander, Rear Adm. Caesar Bernard Valencia.
NMF is a resource center for the development and advocacy of strategies for the promotion and protection of India's maritime interests.
The discussions focused on a range of maritime-related issues, where both nations can further explore concepts to deepen and broaden the scope of bilateral maritime cooperation, as well as the hosting of the first Track 2 meeting of the Philippines-India Marine Dialogue in Manila.
Valencia expressed his gratitude for this visit and eyed "future training and other forms of collaborations" for the betterment of both countries and the young minds of the PN.
He also acknowledged the support of like-minded nations and organizations as vital to the PN's resolve to become stronger and greater. (with Priam Nepomuceno/PNA)