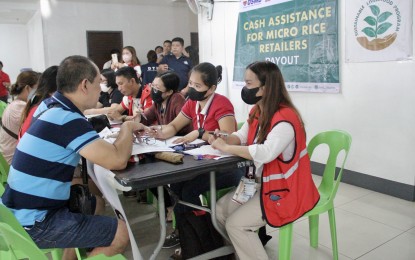 MANILA – The Commission on Elections (Comelec) has approved the Department of Social Welfare and Development's (DSWD) request to allow the nationwide release of cash assistance to rice retailers amid the spending ban during the election period.
In a decision released Tuesday and addressed to DSWD Secretary Rex Gatchalian, the Comelec relayed the decision of its chairperson, George Erwin Garcia, to approve the disbursement of funds for the economic relief subsidy to small retailers affected by the implementation of mandated rice price ceilings.
Under Memorandum 23-05923 issued Monday, the Comelec law department recommended the approval of Gatchalian's request to authorize the release, disbursement and expenditure of public funds for the cash assistance for micro and small rice retailers.
The Comelec on Aug. 9 issued Resolution 10944 prohibiting the use of public funds for social services and development from Sept. 15 to Oct. 30, covering the national, regional, provincial, local governments and government-owned or controlled corporations and their subsidiaries.
The DSWD was reminded to ensure that its approved request will not "in any manner influence the conduct of the 30 October 2023 Barangay and Sangguniang Kabataang Elections."
The department was also told to make sure that it will not involve any distribution of Assistance to Individuals in Crisis Situations from Oct. 20 to 30, "except those which are normally given to qualified individuals such as but not limited to basic needs in the form of food, transportation, medical, educational, burial and other similar assistance."
In a Palace briefing earlier Tuesday, Gatchalian cited the need for a possible extension of distribution of cash assistance, noting that some rice retailers were unable to get the payout.
The DSWD has so far released PHP7.5 million worth of cash assistance to 474 beneficiaries.
Citing the initial list provided by the Department of Trade and Industry, an estimated 5,942 retailers will benefit from the Sustainable Livelihood Program (SLP) for small rice retailers affected by the imposition of rice price caps.
The SLP recipients include rice retailers who have business permits in public and private markets.
The second phase of the SLP will be for affected rice retailers outside the markets.
DSWD Assistant Secretary for Strategic Communications Romel Lopez said the department appreciates the Comelec's decision so they can continue to provide critical support during this challenging time.
"The approval of the DSWD Secretary's request recognizes the urgency of addressing the economic challenges faced by vulnerable micro-scale rice retailers across the nation," Lopez, also the DSWD spokesperson, said in a news release.
The scheduled distribution on Wednesday will be in Marikina, Pasig, Mandaluyong, Makati, Valenzuela and Pateros. (with reports from Zaldy De Layola/PNA)