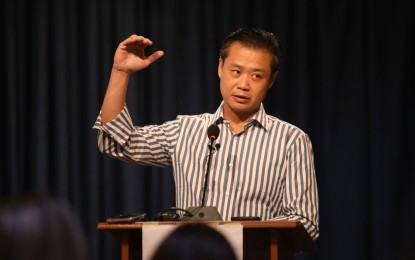 MANILA – Senator Sherwin Gatchalian on Wednesday said there is a need to create laws that would strengthen the country's halal industry, noting that this will contribute a lot to the Philippine economy.
Halal is an Islamic concept which connotes that a product or service is free of impurities and can be consumed by Muslims.
In a statement, Gatchalian said such measures would enable local producers to tap into the global halal market and potentially boost small to medium enterprises in the country.
An airtight legislation on halal would also provide assurance that domestic halal products are compliant with the dietary requirement and Islamic lifestyle required by local Muslim communities and protect halal consumers from buying fake food and non-food halal products, he added.
To date, Republic Act No. 10817 or the Philippine Halal Export Development and Promotion Program Act of 2016 covers the certification of halal products, but the said law does not carry penalties against enterprises that falsely claim they offer halal products or services.
"Nanghihinayang ako sa halal industry natin at sa potensyal nito (I regret our halal industry and its potential). It seems to me that it is very fragmented and the regulation is not so clear. Without penalties, regulations are just prescriptive and will be ineffective," Gatchalian said.
He said there is a need to address gaps in existing laws hampering the full development of the local halal industry.
"I see the need to create an extensive law on halal not only to regulate but also to promote and put clarity on what agencies will do, what responsibilities they should perform, and what penalties are involved if stakeholders don't follow," he said.
He also urged private and local companies to be proactive enough in promoting compliance with the requirements prescribed by the halal industry in the absence of a regulatory body or a strong regulatory law. (With a report from Leonel Abasola/PNA)