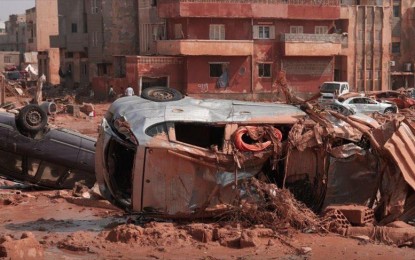 MANILA – No Filipinos were reported dead or hurt by the floods in eastern Libya caused by a deadly rainstorm that hit the country Sunday night.
In a statement on Wednesday, Department of Foreign Affairs spokesperson Ma. Teresita Daza said there were at least 1,100 Filipinos in eastern Libya and 90 of them reside in areas badly hit by the storm.
"There are no reported Filipino casualties. The Filipinos were relocated to higher grounds by the hospital management," Daza said.
"The Filipinos, as nurses, continue to work in hospitals. Communication is difficult as electricity has not been restored in most areas," she added.
Based on the Philippine Embassy in Tripoli's Assistance-to-Nationals mapping on Aug. 20 to 24, about 30 Filipinos are in the district of Derna (five in the city of Derna and 25 in Umm al Rizam), 50 are in the district of Jabel al Akhmatova and 10 are in Tobruk.
Most of them are nurses and clinical instructors.
The Philippine Embassy in Tripoli has reached out to the Filipino community leaders there and it continues to monitor developments.
Local reports in Libya said more than 3,000 people have been reported dead while 10,000 remain missing since Storm Daniel broke the dams and swept the neighborhood in the affected areas as of Sept. 12.
Initial reports indicate that dozens of villages and towns were submerged by floods amid widespread damage to infrastructure. (PNA)