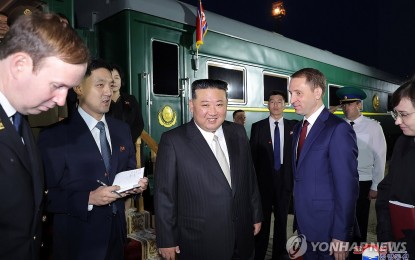 SEOUL – North Korean leader Kim Jong-un and Russian President Vladimir Putin met at Russia's Vostochny spaceport Wednesday, according to Russian news agencies, ahead of their summit that triggered concerns about a possible arms deal.
Four days after Kim left Pyongyang by his armored train, the North Korean leader arrived at the rocket launch facility in Russia. Kim and Putin shook hands and conversed as Putin welcomed Kim, according to the reports.
"Thank you for inviting us, despite your tight schedule," Kim was quoted as saying by Russian news agencies.
On whether he plans to discuss military and technical cooperation with Kim, Putin was quoted as saying that "all issues" will be discussed, according to Russian news agencies.
Such cooperation would include helping the North build its own satellite, Putin was quoted as saying, stressing that is the reason why the leaders chose the spaceport as a venue for their meeting.
Analysts have predicted that North Korea may agree to supply Russia with ammunition and weaponry for its war in Ukraine. Moscow, in return, may agree on a weapons-related technology transfer to Pyongyang, such as those involving spy satellites and nuclear-powered submarines.
If Kim and Putin also agree to strengthen their military cooperation, including a three-way naval drill with China, it would pose a major security challenge on the Korean Peninsula and beyond.
Their meeting came as Pyongyang has recently been seeking to bolster military ties with Moscow and doubling down on its weapons development in the wake of growing security cooperation among South Korea, the United States and Japan.
North Korea fired two short-range ballistic missiles toward the East Sea on Wednesday, South Korea's military said, in an apparent show of force ahead of the summit between Kim and Putin. (Yonhap)