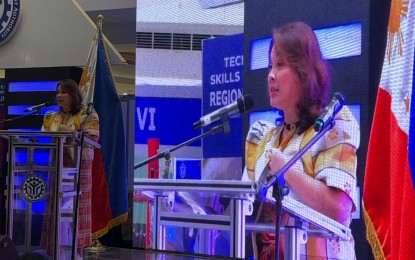 MANILA – Senate Pro Tempore Loren Legarda urged her colleagues at the Senate to support her plan to pass a measure that will establish a Life-long Learning Institute, which will give retirees the opportunity to learn new skills.
Legarda made the plea during the deliberation on Wednesday of the 2024 proposed budget of the Technical Education and Skills Development Authority (TESDA), which aims for the Philippine Technical-Vocational Education and Training to be recognized as a catalyst for education and lifelong learning through its newly launched National Technical Education and Skills Development Plan 2023-2028.
"I am glad you've mentioned lifelong learning because now we see the longevity of people, di ba? People are in their 60s, 70s [and are still] very productive," Legarda said, expressing her interest to know more about TESDA courses under lifelong learning.
"What are the special courses for those who may have retired, let's say from the military, police force, or government but may want to take TESDA courses and may want to continue upskilling? So, I want to know more about your transformative Lifelong Learning and what are these courses that are offered by TESDA under the national government, the TESDA Training Institutions that you own and the private sector which are accredited with you," she added.
Legarda said she is planning to make Lifelong Learning Skills Training available in state universities and colleges.
"Kaya nga gusto kong gumawa ng panukalang batas kasama ninyo of a Lifelong Learning Institute para sa maraming retirado na useful pa (That's why I want to create a bill of a Lifelong Learning Institute for many retirees who are still useful). The human capital of our country is really our wealth aside from our natural resources. That's why I value TESDA," she said.
Under the TESDA Online Program (TOP), Lifelong Learning Skills is composed of Skills to Succeed Academy, which engages participants through interactive modules featuring relatable characters, advanced learning technologies, and interactive exercises; and Financial Literacy which covers lessons on making sound financial decisions to become a financially independent individual.
These online trainings, which are self-paced, can be accessed for free through e-tesda.gov.ph or the TESDA app. (PNA)