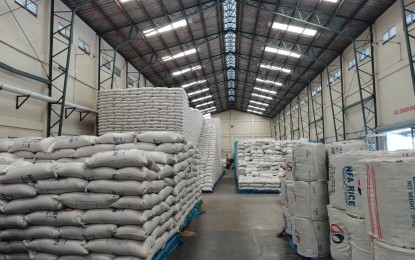 DUMAGUETE CITY – The National Food Authority (NFA) in Negros Oriental is investigating reports that some traders and private individuals are buying palay from local rice farmers at PHP15 per kg.
Benilda Fidel, NFA-Negros Oriental manager, said Wednesday that in Guihulngan City alone, traders were allegedly paying PHP15 a kg. of palay from rice farmers, way below the PHP19 per kg. set by the government.
"This is way below the government's buying price of palay at PHP19 a kilo and we pity the farmers. We have to check if there are individuals taking advantage of the current rice situation in the country," Fidel said.
The NFA provincial manager was in Guihulngan City to talk to local officials as part of the campaign on the government's Palay Marketing Assistance Program for Legislators and Local Government Units (PALLGU).
The program encourages LGU participation in easing the plight of local rice farmers by setting aside a budget to top-up the NFA's buying price of palay.
Fidel urged farmers to sell their palay instead to the NFA as it offers a higher buying price than the private traders.
Meanwhile, the NFA is gearing up to assist the Department of Agriculture and other agencies in identifying violators of the rice price ceiling as mandated by Executive Order 39 of President Ferdinand R. Marcos Jr.
Fidel said they have been deputized to assist in the monitoring and implementation of the EO as they are the ones trained to determine the classification of rice sold to the public.
"The NFA can identify regular-milled rice from well-milled rice, which is covered by the rice price cap, and so we can determine who is heeding or violating the executive order," she said.
The price cap for regular-milled rice is set at PHP41 per kg. and PHP45 per kg. for well-milled rice.
Fidel said they are waiting for the DA, Department of Trade and Industry, and other concerned agencies to convene for the mandatory creation of the Bantay Presyo Task Force.
She clarified that because they do not have police powers, they could only be part of the monitoring and inspection team.
Law enforcers, she said, make the apprehensions and filing of cases for violators, if warranted. (PNA)