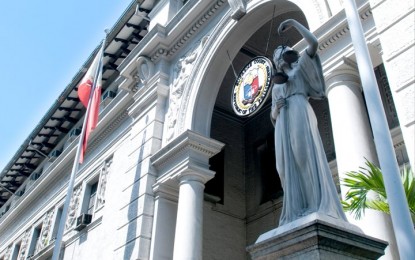 MANILA — The Supreme Court (SC) has upheld the decision of state auditors to disallow a PHP2.3 million direct contracting deal of Tourism Infrastructure and Enterprise Zone Authority (TIEZA) for Christmas decorations in 2011.
In a statement on Wednesday, the tribunal said it has dismissed TIEZA's petition questioning the issuance by the Commission of Audit of a notice of disallowance against payments made by TIEZA to Kabukiran Garden.
In 2011, TIEZA authorized the allocation of PHP2.5 million for the conceptualization, supply, installation of materials, and labor for Christmas decorations and lightings for Club Intramuros, a golf course in Intramuros, Manila being operated by TIEZA.
The contract for the project was awarded to Kabukiran Garden through direct contracting.
TIEZA paid Kabukiran Garden PHP2.3 million for the project, the press release said.
SC said "TIEZA officials did not conduct the required survey to ensure the exclusivity of the source of the procured services and that there is no suitable alternative that can be obtained at a lower cost."
It also noted COA's observation "that providers of Christmas decorations are abundant in the Philippines."
"For failing to justify the TIEZA officials' resort to direct contracting, the disallowance by the COA must be affirmed," the Court ruled.
The Court, in affirming COA's ruling, said Republic Act No. 9184 (RA 9184) or the Government Procurement Reform Act, aims to ensure transparency, competitiveness, efficiency, and accountability in the procurement process.
"To eliminate any suspicion of favoritism or partiality in the execution of public contracts, as a general rule, the law requires that all government procurement must undergo competitive bidding," it said.
Citing RA 9184, the SC said any alternative mode of procurement such as direct contracting must be justified by the procuring entity and that direct contracting may be allowed if items to be procured are "of proprietary nature which can be obtained only from the proprietary source, i.e., when patents, trade secrets and copyrights prohibit others from manufacturing the same item." (PNA)