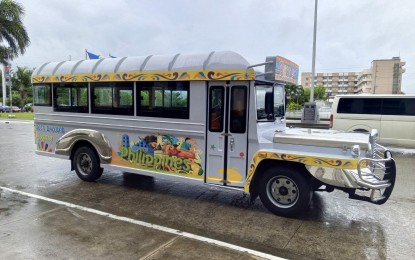 BACOLOD CITY – Mayor Alfredo Abelardo Benitez on Wednesday said some 35 units of electric (e)-jeepneys are expected to arrive here from China between October and November, which will be used as public utility vehicles.
"I think by October or November, these 35 units will be delivered," he told reporters.
Benitez said these e-jeepneys are part of a batch of orders of local transport operators who gave good feedback on the utilization of these vehicles for public transport.
Manufacturer Jiangsu Fengchuen New Energy Power Technology Co. Ltd. (Fengchuen) launched the e-jeepney here in July this year.
"There is a positive feedback from the operators. They said they would have huge savings on operational cost if they will use the e-jeep, especially now that fuel prices are increasing," the mayor said.
Benitez said he is set to create a technical working group (TWG) that will determine the locations of the charging stations.
"That's the challenge. After the TWG decides on it, the city government will initiate setting up the charging stations. We may be the first city in the Philippines to be able to convert our public transportation to e-vehicles," he added.
Fengchuen, a Chinese company backed by Korean investment which earlier entered into an investment intention agreement with the city government, is proposing to set up an industrial complex here for the production of e-vehicles for local and Southeast Asia markets.
"They are looking for locations. I'm leaving it up to them to decide what is viable and feasible for them. In the meantime, we will place orders," Benitez said.
In July here, Fengchuen signed a purchasing contract with its first Filipino buyer –the Cebu People's Multi-Purpose Cooperative, owner-operator of the modernized People's Jeep.
With the look of the iconic Pinoy jeepney, the 22-seater Fengchuen e-jeepney "incorporates advanced new energy technologies, which will help reduce pollutant emissions, improve energy utilization efficiency and contribute to the sustainable development of the Philippines."
The unit has a 60-kilowatt-hour battery capacity, 60-kilometer per hour top speed and 140-kilometer driving range. (PNA)