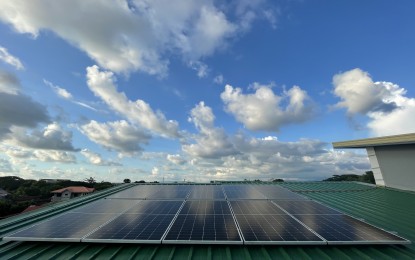 MANILA – The Philippines is open to full foreign ownership of the renewable energy projects, President Ferdinand R. Marcos Jr. said Wednesday at the 10th Asia Summit, as he prodded foreign business leaders to invest in the particular power sector.
"On the power side, we have also at the same time, in trying to increase our supply of electricity have to move the mix of fossil fuels to renewables and so that's why we continue to court investment in that regard," Marcos said during his participation at the summit hosted by the Milken Institute in Singapore.
"As stewards of the environment, we are committed to sustain development in the fight against climate change. The Philippines is embracing renewable energy, welcoming 100-percent foreign ownership of renewable energy projects," he added.
Marcos noted that Republic Act (RA) 11659 or the Public Service Act now allows the "full" foreign ownership when it comes to renewable energy.
He added that the Department of Energy (DOE) also released a circular in 2022, modifying the implementing rules and regulations of RA 9513 or the Renewable Energy Act.
"The Circular eliminates previous Filipino ownership requirements related to the exploration, development, and utilization of solar, wind, hydro, ocean, and tidal resources," Marcos said.
Marcos was referring to DOE Circular 2022-11-0034 issued on Nov. 15, 2022, amending RA 9513 to remove stipulations that mandate Filipino ownership of certain renewable energy resources.
The circular allows foreign investors to hold 100 percent equity in the exploration, development and utilization of solar, wind, hydro, and ocean or tidal energy resources, to attract foreign investments to boost the country's renewable energy sector and meet its long-term climate targets.
During the inauguration of the 24.9-megawatt (MW) Lake Mainit Hydroelectric Power Plant in Jabonga, Agusan del Norte on July 12, Marcos hoped that the private sector would continue to help his administration in realizing its goal of advancing "affordable, reliable and clean" energy in the country.
'Smart, sustainable' agriculture
Meanwhile, Marcos said his administration is also eyeing investment in "smart and sustainable" agriculture, to achieve food security and conserve natural resources for future generations.
"By investing in our nation, you invest in a greener, more sustainable, and more equitable world," he said.
Marcos assured potential foreign investors of incentives, tax breaks and robust legal frameworks that safeguard their interests.
He added that geopolitical stability and regional cooperation are the "cornerstones of [the Philippine government's] foreign policy," noting that his administration is dedicated to peaceful relations and collaboration "that foster a conducive investment and business climate."
"The Philippines has faced its share of challenges as with any country, but we emerge from them stronger and more resolute. Our nation's resilience and ability to adapt are not just stories; they are lessons that we bring to the table, lessons that we share with partners who are invested in our shared future," Marcos said.
"Let us embark on this path together, united in our commitment to economic progress, social inclusion, [and] sustainable development. The Philippines is open for business. We invite you to join us in shaping a brighter future for us all," he added.
This year's Asia Summit focuses its discussions on issues about peace and stability, inequality, cultural differences, and irreparable environmental damage.
Hosted by the Milken Institute, a non-profit think tank, the summit holds a decade-long work that focuses on public health, environmentalism, economic policy and globalization. (PNA)