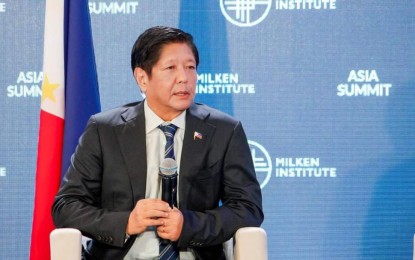 MANILA – President Ferdinand R. Marcos Jr. has expressed confidence that the Philippines and Singapore would forge more partnerships, given the two nations' strong bilateral ties.
In a roundtable discussion with Singaporean business leaders in Singapore, Marcos said the two countries have managed to maintain their good economic relations amid the global pandemic, noting that the Philippines' exports to Singapore went up by 16.98 percent to USD4.91 billion in 2022 from USD4.2 billion in 2021.
Marcos said he expects that the Philippines' growing ties with Singapore would continue to flourish, citing the "bright" future awaiting the two countries.
He expressed optimism that there would be no paradigm shift in terms of geopolitical positioning and multilateral relationship with the Association of Southeast Asian Nations (ASEAN) member states and with the rest of Asia.
"So, for me, the future is bright for the Philippines and Singapore. And I see more opportunities than we have ever had before in fact, and it's just up to us to identify those and to agree on how to best respond to the changes that we now face," Marcos said.
He said the relationship between the Philippines and Singapore started at the people-to-people level, which has been the bedrock of all their other agreements, partnerships, and alliances.
"And in that time between the very beginning of that relationship, we haven't come across really any significant issues, diplomatic, political, or otherwise between Singapore and the Philippines," Marcos said. "And I think that is the reason why, at some point, Singapore was the largest source for foreign investment in the Philippines."
Singapore has also been the Philippines' steadfast partner in its economic journey through the largest source of foreign direct investments in 2021, with a net of foreign direct investments of USD761 million.
The trend continues with Singapore committing a substantial portion of foreign investment pledges in 2022, contributing to the Philippines' remarkable economic expansion of 7.6 percent last year.
Marcos, who is currently in Singapore for a working visit, will return to Manila on Sunday.
On Wednesday, Marcos delivered a keynote address at the 10th Asia Summit hosted by the Milken Institute.
A step toward sustainable Philippines
Speaker Martin Romualdez said President Marcos' participation in the 10th Asian Summit demonstrates his firm commitment to position the Philippines as a prime investment destination, especially in the renewable energy sector.
In a statement on Thursday, Romualdez said the President's attendance at the summit is a "significant step toward forging a sustainable future for the Philippines."
"Through his (President Marcos') determined efforts, Singaporean businesses are being urged to view our nation as a primary investment destination, particularly in the renewable energy sector. The anticipated influx of investments in this field can potentially lead to greener energy solutions and more affordable electricity rates for Filipinos," he said.
Romualdez said this engagement has the potential to further boost the country's economy, noting that the country's strengthened ties with Singapore can generate more job opportunities across various sectors that would directly benefit Filipinos.
"Emphasizing our commitment to infrastructure development through the 8-Point Socioeconomic Agenda, we anticipate a marked improvement in our public facilities, roads, and overall services," he said. "Such initiatives will undoubtedly enhance the day-to-day lives of Filipinos, fostering ease in transportation, trade, and access to essential services."
Romualdez said beyond diplomacy, the President's Singapore trip shows the Philippine government's commitment to ensuring a sustainable, prosperous and bright future for every Filipino.
"Together, with our international partners like Singapore, we remain committed to uplifting the lives of our citizens and driving our nation towards greater heights," he said. (with reports from Filane Mikee Cervantes/PNA)