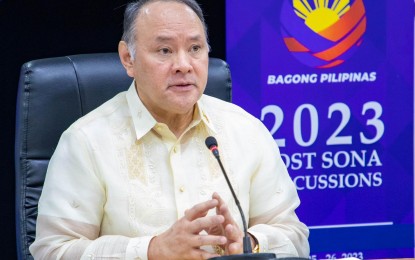 MANILA – Department of National Defense (DND) Secretary Gilberto Teodoro Jr. on Thursday denied claims that the United States' presence in the Philippines is escalating tensions in the region.
In an interview with ABS-CBN News Channel (ANC), Teodoro said it is actually China's "expansionist policy" that heightens tensions.
"Actually, in terms of the Philippines, I respectfully disagree, it is the expansionist policy of China that is actually escalating the tensions not only between us but with Vietnam and other actors and their 10-dash line actually is the best proof that they want to escalate tensions within the area," he added.
Teodoro said the real issue right now is the harassment activities by China because they do not recognize the country's 200-nautical mile exclusive economic zone.
"They do not recognize our other claims, so we are not trying to contain China but enforcing international law which is on our side. Now China keeps on saying that we are containing them, if you use the word contain that means to say you have an intention to expand, so it's disingenuous for them to use that term for me," the DND chief noted.
Teodoro also said the Aug. 5 water cannoning incident by the Chinese Coast Guard against Filipino resupply boats and their escorts in the Ayungin Shoal highlights that the Philippines is not depending much on the US.
"The water cannoning proves that we are not leaning too much on the US because if we lean too much on the US. We would have asked them to escort us there which we don't want to do because we want to do things our way and we want a balanced foreign policy. We really need, of course, the first priority is their resolve to stick to our rights under international law," he added.
Teodoro also said the Philippines is willing to engage with China as long as there is a "framework for proper engagement and that is international law."
Meanwhile, the Western Command (Wescom) on Thursday released new aerial photographs showing a fresh "swarm" of Chinese maritime militia vessels in key areas of the West Philippine Sea (WPS), and raised concern over Beijing's aggressive behavior in disputed waters.
Commander Ariel Joseph Coloma, Wescom's spokesperson, said the gathering of Chinese ships was observed by aerial patrols on Sept. 6-7.
There were 23 militia vessels spotted at Rozul (Iroquois) Reef, five at Escoda (Sabina) Shoal, and two at Baragatan (Nares) Bank.
"The expanded presence of Chinese fishing vessels raises alarms regarding its potential impact on the Philippines' maritime security, conservation of fisheries, territorial sovereignty, and the protection of the marine ecosystem. These actions have been a root cause of tension in the West Philippine Sea (WPS) and have added to the instability in the area," Coloma said.
He said while a greater number of militia vessels were observed at Iroquois Reef on Sept. 7, the recorded Chinese militia vessels at Sabina Shoal, located within the exclusive economic zone of the country and serving as a navigation point for approaching Ayungin Shoal, indicates a persistent pattern of swarming.
Sabina and Iroquios are the areas where Chinese surveillance and tracking of Philippine vessels occur frequently.
Coloma noted that the repeated swarming incidents in both areas highlight the continuous violation of the country's sovereign rights and jurisdiction along its western border.
"While Chinese swarming activity makes a comeback, the Philippines remains committed to staying alert and implementing essential measures to protect its crucial national interests and preserve regional stability," he added.
He said collaborative efforts involving defense forces, law enforcement agencies and international partners are vital for tackling these challenges, defending the Philippines' sovereign rights and jurisdiction, and ensuring stability in the region.
Coloma said the latest swarming case recorded by the Philippine Navy occurred on Aug. 24, involving the sighting of 33 Chinese militia vessels at Iroquois Reef.
Past occurrences of swarming in these areas have coincided with reports of extensive coral harvesting, intensifying worries about their detrimental effects on the environment.
In August, Vice Admiral Alberto Carlos, Wescom chief, said the water cannoning episode near Ayungin Shoal provided evidence confirming that the Chinese vessels frequently seen in the WPS are, in fact, militia vessels posing as fishing boats, and they have been following directives from Chinese Coast Guard authorities.
Carlos said as of Aug. 9, there had been a notable surge in the number of foreign vessels intruding into the WPS, totaling approximately 400, with 80 percent of them being China militia vessels. (With a report from Izza Reynoso/PNA)