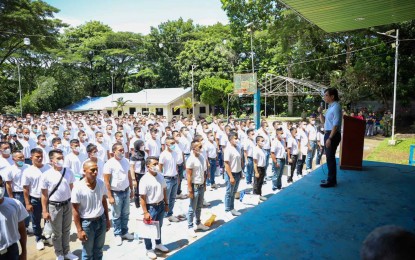 MANILA – The Department of the Interior and Local Government (DILG) on Thursday said the recruitment for the second batch of police applicants among former Moro Islamic Liberation front (MILF) and Moro National Liberation Front (MNLF) has started.
DILG Secretary Benjamin Abalos Jr. visited the Bangsamoro Autonomous Region in Muslim Mindanao (BARMM) at the Police Regional Office-Bangsamoro Autonomous Region (PRO-BAR) at Camp Pendatun, Maguindanao del Norte on Wednesday to witness the recruitment process.
Some 44 MNLF/MILF applicants underwent a three-kilometer run as part of the Physical Agility Test (PAT) while 649 others are now taking their Psychological and Psychiatric Exam (PPE).
Abalos urged the applicants "to become beacons of lasting peace and security in their region."
"We all share the dream of lasting peace and sustainable progress in Mindanao. Once na pumasa kayo, kayo na ang simbolo ng peace talks. Kayo na ang simbolo ng Bangsamoro at ng Republika ng Pilipinas at PNP. At kayo ang tatayo sa inyong mga lugar to ensure that there is indeed peace, kapayapaan at katahimikan (You are now the symbol of the Bangsamoro and the Republic of the Philippines and PNP. And you will now be at the helm in your areas to ensure that there is indeed peace, security and serenity)," Abalos said in a statement.
The recruitment was based on National Police Commission (NAPOLCOM) Resolution No. 2023-0380, which approved the recommendation of the PNP to allocate 400 slots in its recruitment to former members of the MILF and MNLF.
The entry of former MILF and MNLF members in the PNP is covered by Republic Act (RA) 11054 or the Organic Law for BARMM, which was enacted after the signing of a peace agreement between the government and the MILF.
The DILG chief also urged the 100 new PNP patrolmen from the first batch of MILF and MNLF applicants to persevere in the 24-week rigorous Police Safety Basic Recruitment Course on police science administration, combat operations, and tactics.
"You are the best of the best. You are 1 percent of 11,000 applicants. Konti na lang ito, limang buwan na lang na training (You only have five months of training to finish), and this will really hone your skills. Balewala na ito, dahil ang pinakamahirap na parte ay tinapos niyo na (This is a piece of cake because you have surpassed the hardest part)," Abalos said.
In May 2022, around 7,000 of 11,000 MNLF and MILF members passed a special qualifying eligibility examination to join the PNP.
The PNP earlier started the processing of 1,000 passers who have been endorsed by the Bangsamoro government -- 700 of whom are from the MILF and 300 are from the MILF.
The applicants would have to pass the body mass index test, physical agility test, psychological examination and physical and dental examination.
The NAPOLCOM earlier said the age requirement for MILF and MNLF applicants shall not be below 20 and not over 35 years old.
One of the major requirements for the applicants to the special qualifying exams is a certification from the MILF and the MNLF that they are bonafide members of the organizations. (PNA)