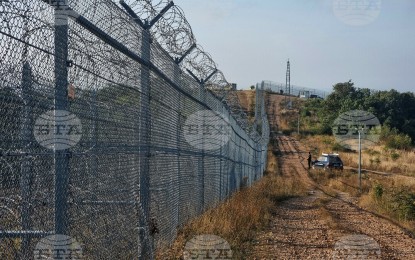 SOFIA, Bulgaria – From January 1 to August 31, Border Police have prevented more than 131,000 attempts at illegal crossing into Bulgaria, up by 49 percent from the like period of 2022, the General Directorate's press office reported Wednesday.
Almost all of these attempts were made at the Bulgarian-Turkish border.
During the same period, 1,018 third-country nationals were detained when attempting to enter Bulgaria illegally. Among the detained on the border with Turkiye, the highest number were from Syria, Afghanistan, Morocco, and Iraq.
Data analysis shows that the nationals of Morocco and Afghanistan mostly violate the green border, while the nationals of Syria and Iraq attempt to cross illegally both through the green border and through a border crossing by hiding in vehicles.
A total of 1,607 third-country nationals were detained while trying to illegally leave Bulgaria, the majority of them at the Bulgarian-Serbian border.
In August alone, 417 persons were detain, up by 33 percent from July 2023.
In June-August 2023, Border Police prevented over 75,000 attempts at illegal entry in Bulgaria, while in the like months of 2022 their number stood at 50,000.
Between June and August 2023, a total of 174 pretrial proceedings were launched at Border Police against smugglers and helpers, which is an increase by 70 percent from the same period of 2022.
In June-August 2023, border police officers seized 4,060 kg of tobacco and over 245,000 boxes of cigarettes of various brands transported illegally, saving the state budget from around BGN 1.5 million in losses.
In the like period of 2022, these numbers stood at some 70 kg of tobacco and around 74,000 boxes of cigarettes, preventing losses of BGN 445,000.
In the last three months, Border Police seized more than 145 kg of dried marijuana, estimated at approximately BGN 3 million. In the same period of 2022, the seized marijuana was worth around BGN 65,000. (BTA)