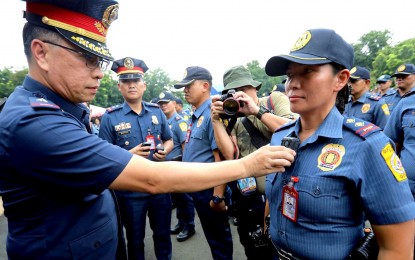 MANILA – The Quezon City Police District (QCPD) would step up its security operations for the upcoming Barangay and Sangguniang Kabataan Elections (BSKE) with the use of body-worn cameras (BWCs) by its personnel.
QCPD director Brig. Gen. Redrico Maranan led the distribution of the BWCs and other equipment to personnel at the district headquarters at Camp Karingal.
Maranan said around 179 BWCs from the city government were provided to police officers who would be deployed in 107 polling centers during the Oct. 30 polls.
"The BWCs and drones have abilities that humans cannot do. These have a wider scope than the naked eye of a police officer. The footage of incidents are recorded in its memory and is more accurate than the memory recollection of our patrol officers," he said in a press briefing Thursday.
The BWCs have an average battery life capacity of five hours, he added.
"In instances of low battery, it is the responsibility of the personnel using it to charge it. He must call our command center and inform them that the BWC would be charged for record purposes," he said.
Meanwhile, the QCPD launched the Task Force District Anti-Crime Reaction Team.
The team is composed of skilled and well-trained motorcycle officers who would be mobilized to deter crimes, provide immediate response to incidents, and support peace and order efforts for the BSKE.
It is also equipped with 22 motorcycles, body vests, body-worn cameras, tactical helmets, and hand-held radios.
Maranan, meanwhile, thanked Mayor Joy Belmonte for provision of BWCs, motorcycles and other law enforcement equipment.
The QCPD chief said some 900 personnel would be deployed at least one week before the election day in vital installations such as voting centers and Commission on Elections offices.
He said QCPD officers would be augmented by personnel from the Joint Task Force-National Capital Region of the Armed Forces of the Philippines, Bureau of Fire Protection, QC Department of Public Safety and the local Disaster Risk Reduction and Management Office.
Maranan also said no election related cases have so far been recorded in the city. (PNA)