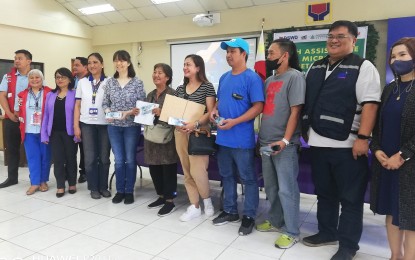 BAGUIO CITY – Seventy-five micro-retailers affected by the price cap on well-milled and regular milled rice each received on Thursday a PHP15,000 cash assistance from the government as part of the sustainable livelihood program-economic relief subsidy (SLP-ERS).
Among the beneficiaries were 55 retailers from Baguio and Benguet; four from Kalinga; 14 from Abra; and one from Apayao.
The distribution was led by members of the Cordillera "Bantay Bigas Task Force," composed of members of the regional offices of the Department of Social Welfare and Development (DSWD), Department of Trade and Industry (DTI), and Department of Agriculture (DA).
"This is a small amount but this is the government's way of extending assistance to you for complying with the rice price ceiling order," said Amelyn Cabrera, DSWD-Cordillera assistant regional director for operation.
Executive Order 39, signed by President Ferdinand R. Marcos Jr., issued on Aug. 31 directed rice retailers to sell well-milled rice at PHP45 and regular-milled rice at PHP41.
"The government recognizes that you bought your rice supply at the same price or even higher than the mandated ceiling but you had to comply. For complying and making rice available to low-income earners, the government is giving the amount as assistance and for helping provide affordable rice to our people," said Danilo Daguio, Regional Technical Director for Administration of the DA-Cordillera.
Daguio said they have recorded a high compliance among the over 150 rice retailers they monitored in Baguio City.
"On the first day, there were lots who were violating but as of today, we don't see any more rice retailers who do not comply with the price ceiling," he said.
In a media release of the DA, Nicholas Merano, president of the Baguio-Benguet Grain Retailers Confederation of the Philippines (GRECON), said they are throwing their support to EO 39.
"Although we have the supply of well-milled rice, we will have to sell this at PHP45 per kilo per day with a maximum of five kilos for every consumer to ensure that these will be available to the consuming public, which would last hopefully until the third week of September in time for the delivery of newly harvested regular and well-milled rice coming from rice-producing areas in nearby provinces," Merano said.
DTI-Cordillera assistant director Samuel Gallardo said apart from cities and capital towns in the region, they would also soon conduct monitoring in municipalities.
"We will still be continuing with the monitoring of prices and the validation of monitoring teams if the rice retailers are eligible to receive cash assistance," he added.
He assured the public that more retailers will get the subsidy, but reminded rice sellers that their businesses have to be registered first and they have to be compliant with EO 39 before they get the aid. (PNA)