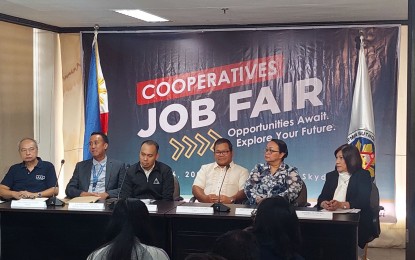 MANILA – The Cooperative Development Authority (CDA) has submitted to the Office of the President its plans on how to streamline some requirements in creating cooperatives in line with President Ferdinand R. Marcos Jr.'s directive during his second State of the Nation Address (SONA) on July 25 this year.
"We need to streamline, that's why there's a need to review the guidelines, the regulatory mandates of the CDA," CDA Undersecretary Joseph Encabo said in a press conference at the CDA office in Quezon City on Wednesday.
In his SONA, President Marcos also called on Congress' support amendments to the Cooperative Code to expedite the creation of cooperatives.
"Sa pamamagitan nito, unti-unting lalakas ang kanilang produksyon at pwersa sa merkado. Totoo ang kasabihan, mas malakas basta't sama-sama (Through this, their production and market forces will gradually strengthen. The saying is true, together we are stronger!)," the President said.
In response, House Speaker Martin Romualdez said four of the remaining 10 SONA priority measures for approval, including amendments to the Cooperative Code, are scheduled to be passed by October. Others are Anti-Agricultural Smuggling; Tatak Pinoy; and Blue Economy.
Encabo said CDA has submitted its own proposed amendments to the Cooperative Code (Republic Act 9520) both to the House of Representatives and the Senate.
He said there are also provisions in the CDA's charter, RA 11364, that also needed to be amended "to comply with the directive of the government."
"We also came up with special programs to our agri-cooperative as a sector that all clusters -- the human services, public utilities, finance, consumers, and marketing logistics cooperatives and the education advocacy cluster will come together, come up with a framework on how to supplement and reinforce the agri sector, how can we contribute in their growth and in the viability of their cooperatives. So it's already a multidimensional approach," Encabo said.
"It's no longer an existence of the agri-sector alone, but everyone will have its own participation and role in the so-called interplay of clusters focusing and making agri as the core or beneficiary of this program," he added.
Meanwhile, CDA Assistant Secretary Myrla Paradillo, head of the human services cooperatives cluster, announced the holding of the second Cooperative Job Fair on Oct. 16 at the Skydome, SM North Edsa.
She said about 5,000 job opportunities, ranging from professional to skilled positions, will be available as 50 cooperatives in the National Capital Region, Calabarzon and Central Luzon will participate in the event.
Participants will receive orientation on the nature of labor service cooperatives as juridical entities, helping them understand the unique aspects of this type of cooperative as a business entity. (PNA)