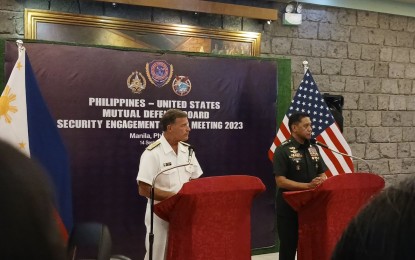 MANILA – There is nothing unusual with Filipino and American warships conducting joint patrols as the two nations' militaries have been operating together for decades, a ranking American military official said Thursday.
"The Philippines and the United States have been operating together for decades, so under the title of joint patrols, just recently on the 4th of September, we executed the first one that was aligned, designed, and built by (Armed Forces of the Philippines chief) Gen. (Romeo) Brawner's (Jr.) team and my team executed with approval from our leaders," US Indo-Pacific Command chief, Adm. John Aquilino, said in a presser on the sidelines of the Mutual Defense Board - Security Engagement Board (MDB-SEB) meeting in Camp Aguinaldo, Quezon City.
"And we'll continue to do that for a long term, ultimately to ensure that we can maintain the freedom of the seas, freedom of airspace so that all the nations in the region can enjoy peace and prosperity."
On Sept. 4, Filipino and American warships conducted a "bilateral sail" in waters off the western part of Palawan province.
The activity highlights the "robust maritime cooperation" between the two nations.
"The activity is done under the MDB-SEB framework that aims to develop operational interoperability between the navies of the two countries," the AFP said in an earlier statement.
The AFP deployed the Navy's guided-missile frigate, BRP Jose Rizal (FF-150), while the US Navy deployed the Arleigh Burke-class guided-missile destroyer, the USS Ralph Johnson (DDG-114).
Meanwhile, Brawner said they are coordinating with other countries interested in participating in the "joint sail."
"Aside from the United States, several countries have given their intention of joining the 'joint sail' and for us in the Philippines, this is a very good indication of the intent of like-minded countries to come together to promote the rules-based international order and to make sure that security in the Indo-Pacific region is maintained at all times," he said. (PNA)