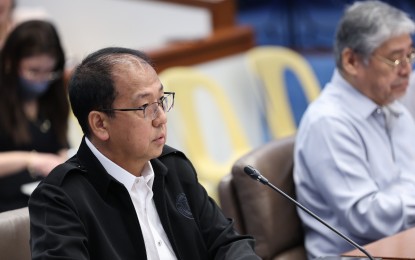 MANILA – The Office of the Presidential Adviser on Peace, Reconciliation and Unity (OPAPRU) on Friday touted the successful outcomes of its peacebuilding efforts in the country.
"As a result of the agency's various peacebuilding interventions, thousands of our fellow Filipinos who were former combatants, rebels and extremists throughout the country have turned away from armed struggle and are now living as peaceful, productive, and law-abiding citizens. They have come to realize that good things come to those who walk the path of peace," OPAPRU chief Secretary Carlito Galvez Jr. said in his message for the agency's 30th founding anniversary.
Galvez also cited the peace gains achieved by the nation through the "dedicated, selfless and hard-working personnel and executives" who are at the frontlines "not only to spearhead peace dialogues and conversations but to co-develop and implement innovative programs and initiatives with our peace constituency, that have addressed the root causes of armed conflict."
Galvez said among the OPAPRU's key accomplishments in the last 30 years are:
--the promotion and embedding of the culture of peace across all levels of society
--propagation of the values of tolerance, inclusivity and understanding. It has replaced the sword of conflict with the embrace of peace.
--crafting and signing of landmark peace agreements with armed groups
--genuine peace and sustainable development to communities in the Bangsamoro region in Mindanao, and in conflict-affected and conflict-vulnerable areas in the country
He said OPAPRU facilitated meaningful dialogue between parties, helped pave the groundwork for peace agreements to be forged and transformed conflict-affected communities into show windows of peace and development.
"The agency has also helped promote the principles of good governance, accountability, and justice among local government units, national government agencies, other government institutions and the security sector while helping to address historical grievances among victims of armed conflict by ensuring that the wounds of the past are acknowledged, healed, and prevented from resurfacing," he added.
Meanwhile, Galvez reminded Filipinos that promoting peace is everyone's responsibility.
"May you all continue to be a beacon of hope, a facilitator of peace, a bridge for reconciliation, and a catalyst for unity," he said.
The agency, formerly known as the Office of the Presidential Adviser on the Peace Process, was established on Sept. 15, 1993 under Executive Order (EO) 125 signed by the late former president Fidel Ramos.
It was later renamed OPAPRU under EO 154 signed by former president Rodrigo Duterte on Dec. 27, 2021. (PNA)