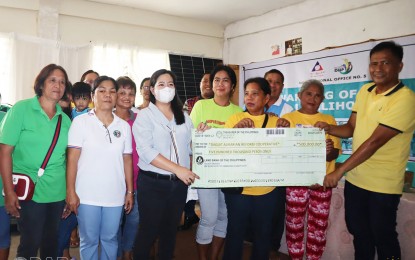 LEGAZPI CITY – Hundreds of farmers who are members of agrarian reform beneficiary organizations (ARBOs) from three provinces in the Bicol region are recipients of PHP1.7 million worth of livelihood assistance from the Department of Labor and Employment (DOLE).
In an interview on Friday, Department of Agrarian Reform (DAR)-5 (Bicol) spokesperson Geniesis Campos said three ARBOs from Catanduanes, Camarines Norte and Camarines Sur received various tools and equipment in a series of distribution activities conducted this month.
"Under the DOLE Integrated Livelihood Program (DILP), raw materials, tools and equipment were provided in a series of distribution to ARBOs --Daguit Agrarian Reform Cooperative (DARC), Siembre Agrarian Reform Beneficiaries Organization, Inc. (SARBO) and San Isidro Farmers' Cooperative (SIFARMCO), and benefiting a total of 315 farmers-members," Campos said.
In a statement, SIFARMCO chair Oscar Tan thanked the Department of Agrarian Reform (DAR), DOLE and other partner agencies for the assistance.
"DOLE's livelihood assistance will greatly contribute to our organization's long-term sustainability and elevate the current enterprise to new heights," Tan said.
The SIFARMCO of Barangay San Isidro, Virac, Catanduanes received food processing tools and equipment worth almost PHP1 million, including industrial banana and vegetable slicers, dehydrators, gas deck ovens and fryers.
Also given were nitrogen gas flushing appliances, stainless steel worktables, weighing scales and other essentials like basins, knockdown food tray racks and transparent storage boxes.
DARC chairman Ramon Iligan said the equipment will help in the sustainability and improvement of their products.
The DARC of Daet, Camarines Norte was granted state-of-the-art equipment worth PHP500,000 including two units of fabricated dehydrators and a 1,000-watt solar panel system to support the cooperative's thriving export enterprise of dried taro leaves.
The SARBO from Bombon, Camarines Sur received PHP234,884 worth of livelihood assistance including an industrial banana chip slicer, a foot impulse sealer, a gas tank and fryer, and a display rack.
The group was also provided with a complete set of desktop computers, laminators and label printers that will significantly reduce SARBO's overhead and packaging costs and boost their production.
Campos said the DOLE's livelihood program aims to alleviate poverty by creating job opportunities in various sectors.
"By equipping ARBOs with the necessary tools, the program is empowering the organization to improve production and further develop its business. This will not only contribute to boosting the local economy but also align with the government's objectives of poverty reduction and community development," she said.
Campos added the initiative aligns with President Ferdinand R. Marcos Jr.'s promise of creating livelihood programs for Filipinos, particularly those engaged in agriculture.
"It not only underscores the collaborative efforts of DAR and DOLE in supporting local livelihoods but also exemplifies the potential for positive change when government agencies combine resources to uplift the lives of farmer-beneficiaries," she added. (PNA)