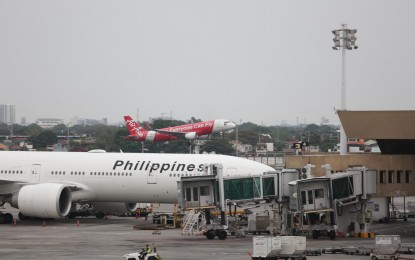 MANILA – Local carriers Philippine Airlines and (PAL) and AirAsia Philippines are open to exploring more regional routes and expand network opportunities to allow passengers the flexibility to choose the best flight options.
"We believe that operating regional or international flights from our Manila hub and certain regional flights from airports outside Manila provides passengers with the flexibility to choose what works best for them," PAL spokesperson Cielo Villaluna told the PNA on Friday.
PAL has flights between Cebu and Seoul, South Korea, as well as flights to Seoul via Kalibo and Clark. The carrier also operates between Cebu and Tokyo, Japan.
A senator recently suggested for local carriers to mount direct flights between Thailand and the country's local tourist destinations.
As for services to Thailand, Villaluna said PAL operates twice weekly from Cebu to Bangkok every Tuesday and Saturday, and from Bangkok to Cebu every Wednesday and Sunday.
Thrice daily flights are offered by PAL between Manila and Bangkok.
"We continue to evaluate network opportunities and will share these once ready," Villaluna said.
Meanwhile, AirAsia Philippines currently flies between Bangkok and Manila once daily.
"AirAsia Philippines is supportive of exploring more regional routes," spokesperson Steve Dailisan told the PNA.
Local carrier Cebu Pacific flies twice daily between Manila and Bangkok, and four times weekly via Clark.
During the recent budget deliberation of the Department of Transportation and attached agencies, Senate President Juan Miguel Zubiri said Thai Ambassador to the Philippines Tull Traisorat shared with him the idea of having direct flights between Boracay and Phuket, for instance, and other destinations like Cebu.
That way, tourists will not have to go to Manila and take another flight, Zubiri said.
In response, Transportation Secretary Jaime Bautista said that while this is doable, this has to be discussed with the airlines.
Dailisan said they are expecting more inclusive growth across regional destinations once Zubiri's proposal is realized. (PNA)