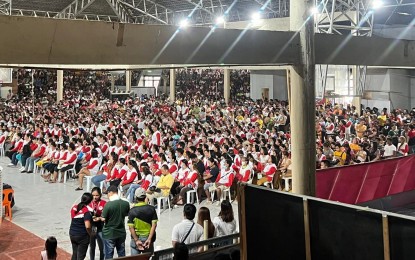 ILOILO CITY – A total of 6,000 residents of Iloilo City are set to take part in the emergency employment program of the Department of Labor and Employment (DOLE) that will start on Sept.18.
Public Employment Service Office (PESO) manager Gabriel Felix Umadhay said the beneficiaries on Friday attended the orientation and signed their contract before they could start working.
He said the beneficiaries will plant trees at the Iloilo Tree Park and conduct clean-up activities in markets and plazas to ensure the cleanliness of the public areas and unclog the drainage system.
"Hopefully, we can start by Monday. This is a 10-day work program. Our goal is to plant as many trees to make Iloilo City a green city, so we use the workforce to plant as many trees as we can," he said in an interview.
The beneficiaries chosen by barangay officials from 180 barangays are residents 18 years old and above, with a medical certificate of fit to work if they are over 60 years old, and displaced workers or have no permanent jobs.
Umadhay said this is not the first time that many city residents availed of the DOLE's emergency employment under the Tulong Panghanapbuhay sa Ating Disadvantaged/Displaced Workers (TUPAD).
"They take part in cleaning, they take ownership of cleaning Iloilo City. The impact is huge because at least people will see that they are part of this," he said.
It is also the city government's way of giving back to people needing livelihood, he added.
The workers will render 10 days of work for a fee of PHP450 a day, equivalent to PHP4,500. (PNA)