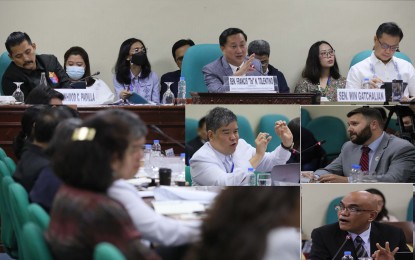 MANILA – The eight proposed measures seeking to define and declare the maritime zones of the Philippines will certainly strengthen the country's claim in the West Philippine Sea (WPS), according to Senator Francis Tolentino.
Tolentino, who chairs the Special Committee on Philippine Maritime and Admiralty Zones, said on Friday that a new Philippine map, with its specified maritime zones, would be included in the proposed measure.
"We will be sending a copy to the UNCLOS (United Nations Convention on the Law of the Sea) Secretariat (and) the United Nations for their recognitions, as well. But again, the other countries supporting us would also be supporting our claims based on our new Maritime Zone Law," he said during an interview with ANC.
The proposed measure, he said, would also specify sea lanes, air routes, and natural resources within the country's exclusive economic zone.
"Once crafted into law, this will be part of our arguments that China should abide by UNCLOS because the progeny of UNCLOS is the Maritime Zone Law that we are crafting right now. So, this will fortify our claim," he said, expressing hope that the proposed measure would also help push for discussions on the code of conduct in the Philippine waters.
Tolentino on Thursday presided over the first organizational meeting and public hearing on eight bills after the Senate recently approved Resolution 76, creating the special panel that has the mandate to study and report all matters, including all measures relating to archipelagic baselines, maritime zones, archipelagic sea lands, and other incidental matters.
During the hearing, Tolentino cited that the WPS comprises almost 40 percent of the total Philippine maritime domain, which supports at least 373,733 fisher folk.
"Leaving the Philippines' maritime zones largely undefined will slow our ability to responsibly exploit and develop our resources," he said. (PNA)