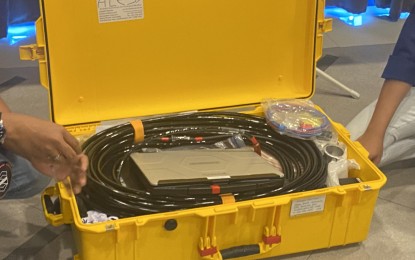 LEGAZPI CITY – The Bureau of Fisheries and Aquatic Resources (BFAR) received equipment from a non-government organization (NGO) that will help the Fisheries Management Areas-7 (FMA-7) sustain a good harvest while protecting the fish stocks, with focus on the sardine population.
In a press conference on Friday, BFAR-Bicol Regional Director and chairman of FMA-7, Ariel Pioquinto said the new technology will improve the quality of science they use to make good fisheries policies.
Aside from Bicol, FMA-7 also covers Calabarzon (Cavite, Laguna, Batangas, Rizal and Quezon) and Eastern Visayas.
During the activity, the NGO Environmental Defense Fund (EDF) provided two echosounders worth PHP4 million as a grant to the three regions that will be used to conduct regular surveys in their respective fishing grounds.
"This equipment will be used for us to continue the process of looking into the science behind the policies we were formulating. The training of the personnel to use the equipment with the help of the experts is something we cannot do without our partners. This will help to fast-track the process of coming up with any science that will be a source of any policy," Pioquinto said.
He explained that the main goal of fishery management is to ensure that enough fish remain after the harvest season to successfully reproduce and create the next generation.
"The abundance and productivity of the fish stock and the intensity of fishing must be estimated. With the new equipment, the echosounders are being used in many fisheries around the world to estimate fish stock abundance. The data recorded and calibrated can determine which species are present and how abundant they are," Pioquinto said.
He also said that the equipment will provide a source of unbiased data to complement the catch data that is being used to manage the sardine fishery.
"With the equipment and the concept doing management approach, this will make it possible for fishery managers to allow the stock to recover and then produce higher yields, benefiting fishers, communities, and the nation as a whole," he said.
The echosounder is equipment attached to local boats and sends short, harmless pulses of sound into the ocean, and when those pulses encounter something, like fish, bubbles, or the seafloor, they produce echoes, indicating where the thing is located.
Pioquinto thanked EDF for its grant as well as Stony Brook University and the Cornell Atkinson Center for Sustainability for their support of BFAR and FMA-7's endeavors. (PNA)