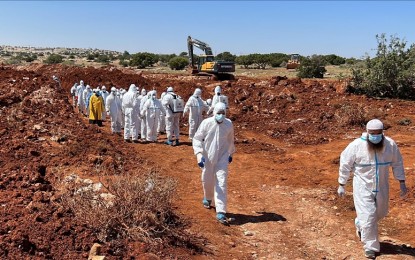 DERNA, Libya – Rescue teams continued their efforts in Libya on Saturday to search for survivors following this weekend's deadly floods that killed thousands.
At least 6,000 people were killed and thousands of others remain missing following deadly flooding caused by Mediterranean storm Daniel.
Derna was the hardest-hit by the deadly flooding that caused two dams to collapse in the eastern city.
The World Health Organization (WHO) estimates that more than 9,000 people are still missing, while the bodies of 3,958 people have been recovered and identified following the flood disaster.
According to an Anadolu reporter, the bodies of the flood victims were buried in mass graves in Derna city's rural areas.
At least 3,000 people have so far been buried in mass graves, official sources said.
Derna is bisected by the Wadi Derna, a seasonal river that flows from highlands to the south, and normally protected from flooding by dams.
But the massive floods caused the city's two dams to collapse, dragging large parts of Derna into the sea.
According to the UN migration agency, more than 38,600 people have been displaced by the floods in Libya so far. (Anadolu)