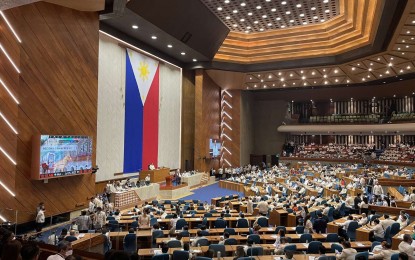 MANILA – The proposed PHP5.768-trillion national budget would be approved without delay before Congress goes on recess from Sept. 30 to Nov. 5.
House of Representatives Speaker Ferdinand Martin Romualdez said in a news release Sunday that they will begin plenary deliberations on the proposed 2024 national budget on Tuesday.
"We will work morning and afternoon and on Thursday and Friday this week to meet our timeline. The national spending bill is the single most important piece of legislation Congress passes every year," he said.
Romualdez said the measure "will support the President's prosperity and economic recovery roadmap."
"Through the national budget, we hope to sustain our recovery from the Covid-19 pandemic, create more income and job opportunities for our people, and improve their quality of life through the timely delivery of basic social services like education, healthcare, infrastructure, and financial aid," he said.
Budgets of the Department of Finance, Department of Tourism and National Economic and Development Authority (NEDA), including their attached agencies, and certain offices under the Office of the President (OP) are up for plenary debates on Tuesday.
On Wednesday, the House will tackle the budgets for the Ombudsman, Commission on Elections, Commission on Human Rights, Department of National Defense, Department of Science and Technology, Department of Trade and Industry and more OP agencies.
The House will scrutinize on Thursday the spending proposals of the judiciary, Department of Justice, Department of Agrarian Reform, Presidential Communications Office, Department of Human Settlements and Urban Development, and state universities and colleges.
Friday will see the chamber considering the budgets of Congress, Department of Social Welfare and Development, Department of Information and Communications Technology, Department of Migrant Workers, Department of Labor and Employment and Department of the Interior and Local Government, including their attached agencies, and funding support for several government corporations.
On Sept. 25, it will be the turn of the budgets of the Civil Service Commission, Commission on Audit, Department of Energy, Department of Agriculture, Department of Health and additional OP agencies.
Proposed appropriations for the OP, Office of the Vice President, Department of Education, Metro Manila Development Authority, Dangerous Drugs Board, remaining OP agencies, Department of Public Works and Highways and Department of Environment and Natural Resources will be tackled on Sept. 26.
Proposed budgets of the Department of Foreign Affairs, Department of Transportation, Department of Budget and Management and lump sum appropriations will be tackled on the last day of plenary debates on Sept. 27.
The proposed budget will also address inflation, protect the purchasing power of Filipino families, and address the constraints to investment and inclusive economic growth, according to the NEDA.
"We are determined to address the inflation problem, resulting in the easing of both food and non-food inflation. The country's overall inflation has been decelerating since February 2023, with both food and non-food inflation moderating," NEDA Secretary Arsenio Balisacan said during the national budget briefing with the Senate Committee on Finance on Aug. 15.
If necessary, the House of Representatives can still hold sessions until Sept. 29.
Turno en contra (turn to speak against) speeches and amendments are also scheduled on Sept. 27, to be followed by final approvals. (PNA)