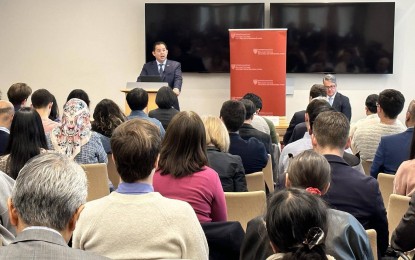 MANILA – Harvard University does not discuss the terms or specifics of individual gifts, a policy that House Speaker Ferdinand Martin Romualdez said he will adhere to.
Instead, Romualdez said he would like to redirect attention to the significant milestone of the introduction of the Filipino language course at Harvard University Asia Center amid reports that he donated USD2 million to the prestigious American institution.
"I stand by that principle," Romualdez said in a statement Sunday, referring to Harvard's privacy policy on donations.
He said having a Filipino language course at Harvard is "a remarkable acknowledgment of our culture and heritage on a global platform."
"As mentioned by Mr. Jose Marco C. 'Marcky' Antonio II, co-president of the Harvard Undergraduate Philippine Forum, our focus should be on celebrating this achievement," he said. "Let's embrace this moment of pride and unity for our country and our language."
Citing the FilAm magazine, the Harvard Crimson website posted a report three days ago that the alleged donation would "endow the Filipino (Tagalog) preceptor position at Harvard" for no longer than three years.
"Harvard is excited to offer our students the opportunity to study Filipino as part of our comprehensive offerings in East Asian studies," Jonathan Palumbo, a Harvard spokesperson, replied to the Harvard Crimson in an email. "As a matter of practice, Harvard does not discuss the terms or specifics of individual gifts, and in line with Harvard's gift policy, donors have no role in the establishment of the courses that are offered." (PNA)