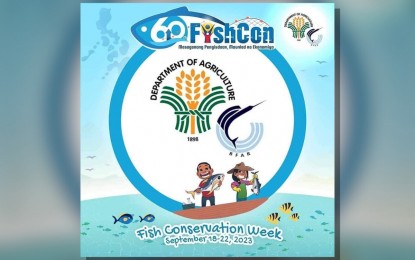 MANILA – The Bureau of Fisheries and Aquatic Resources (BFAR) on Monday said it aims to further boost the country's fisheries sector to contribute to economic growth.
"Together with allied government agencies, fisherfolk and fish farmers, and other key stakeholders in the industry, the Bureau remains steadfast and committed to our campaign and programs for the protection, conservation, and management of our fisheries and aquatic resources. Achieving food sustainability in fisheries is a continuous and never-ending process," BFAR director Demosthenes Escoto said during the launch of the 60th Fish Conservation Week at the agency's central office in Quezon City.
Escoto said this year's celebration, which carries the theme "Masaganang Pangisdaan, Maunlad na Ekonomiya," is anchored on President Ferdinand R. Marcos Jr.'s push for the protection and conservation of the country's natural resources to achieve food security and sustainability.
The BFAR chief also introduced activities aimed at increasing the sector's productivity.
One of these, Escoto said, is the Bantay-Dagat Insurance Program designed to provide essential medical aid and death benefits to qualified City and Municipal Fisheries and Aquatic Resources Management Council (C/MFARMC) law enforcement officers.
The BFAR launched the program in partnership with the Philippine Crop Insurance Corporation to recognize the contributions of Bantay Dagat, whose safety and lives are at risk, in safeguarding coastal communities from illegal, unreported, and unregulated fishing activities.
It also launched FishRecipes: Lutuing Isda ng mga Mangingisda, an information campaign aimed at promoting fish recipes crafted by fish farmers, fisherfolk, and cooperatives across the country.
The celebration coincided with Maritime and Archipelagic Nation Awareness Month where BFAR employees dressed in aquatic animals and seafood costumes participated in dance and culinary competitions.
Escoto said the celebration of the 60th Fish Conservation Week would culminate with the launch of Philippine Fisheries and Coastal Resiliency (FishCoRe) Project at the Philippine International Convention Center in Pasay City on Friday.
FishCoRe is a seven-year project aimed at enhancing the management of fisheries resources within Fisheries Management Areas 6 and 9, spanning 11 regions and 24 provinces.
It also seeks to bolster fish production and contribute to national economic growth through sustainable fishing practices.
BFAR will also announce on Friday the grand winner of Malinis at Masaganang Karagatan: The National Search for Outstanding Coastal Community, an annual competition which encourages local government units to adopt comprehensive policies for the protection and management of their aquatic resources, while recognizing communities that excel in coastal resource management practices.
The grand winner was selected for its exceptional dedication to coastal conservation, taking into account five criteria: prohibition of illegal fishing practices, effective solid waste management program, successful implementation of a closed fishing season, protection of mangroves, and preservation of marine protected areas.
Individuals and organizations that have made substantial contributions to the protection and advancement of the fisheries sector will also be recognized at the Parangal sa mga Kabalikat sa Pangisdaan: Gawad Pagkilala at Pasasalamat.
Various activities will also be held throughout the celebration to engage the public in discussions about fisheries conservation and responsible aquatic resource management. (PNA)