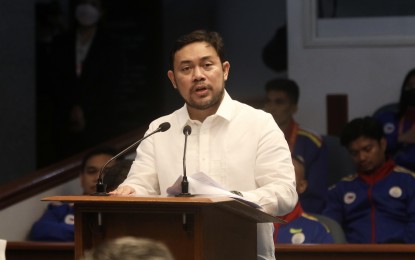 MANILA – Senator Mark Villar on Monday said there is a need to craft a strong law to fight scammers as records show that cases almost doubled.
"The number of phishing attacks in the Philippines during the first half of 2022 already surpassed the number of attacks in the whole year of 2021. In that period, over 1.8 million attacks have been detected compared to 1.34 million attacks in 2021," Villar said in a statement.
Villar, Chairperson of the Committee on Banks, Financial Institutions and Currencies, led the committee hearing on 3 Senate Resolutions, 4 Senate Bills, and 1 House Bill, collectively called as the Anti-Financial Account Scamming Act (AFASA) that would deal with cases of online fraud.
He said the rising cases of online scams that victimize Filipinos are extremely concerning as data from Kaspersky Security Network reveal that cases of financial phishing attempts in the Philippines from February to April 2022 were highest in Southeast Asia.
He said the AFASA will provide a regulatory framework that penalizes scammers and entails safeguard measures to protect Filipinos and their financial accounts.
"Because of the lack of a regulatory framework that penalizes these scammers, there are and there will be more victims in the foreseeable future. Even as we speak, there are individuals being victimized by these scammers who seize every vulnerable opportunity available to them," he added.
He said cases of online fraud endanger the public's trust in financial institutions and by enacting the AFASA into law, the public's trust in banks and financial institutions would be strengthened.
"Being a key component of our economy, our banking and financial institutions must remain strong and responsive to this persistent threat. We should not give these scammers an avenue and more time to victimize our people," he added. (With a report from Leonel Abasola/PNA)