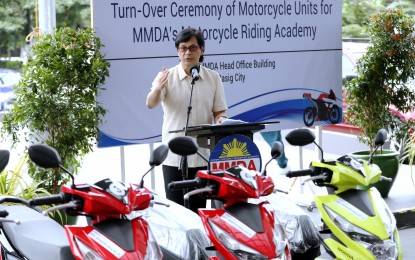 MANILA – Department of the Interior and Local Government (DILG) Secretary Benjamin Abalos Jr. on Monday said he has sought guidance from the Office of the President (OP) on the promotion of star-rank officials.
The DILG chief also said he would continue to push for the passage of a law restructuring the PNP while waiting for the legal opinion of the OP on the matter.
"Once I get this (legal opinion), I will immediately sign their promotion so we can resolve this issue. The problem would have been solved if a law on this is out by December. I hope that this issue is resolved in one to two weeks," he said on the sidelines of the rites for the DILG's donation of 10 motorcycles to the Metropolitan Manila Development Authority in Pasig City.
This came after the Department of Budget and Management (DBM), citing Republic Act (RA) 6975 (DILG Act of 1990) and RA 8551 (PNP Reform and Reorganization Act of 1998), earlier flagged the PNP's actual strength and rank distribution for having excess positions that contradict the figures set by the agency.
Citing Section 13 of RA 9551, Abalos said the National Police Commission has submitted to Congress the PNP's reorganization plans in the year 1998, 2008, 2009 and 2011, but none of these were approved.
Abalos, however, noted that under the "statutory construction" or interpretation of the law, the specific provision prevails over the general law.
Based on Section 92 of the 2023 General Appropriations Act (GAA), Abalos said the President of the Philippines is authorized to create new offices and modify the existing structure of the executive branch as well as create new positions whenever public interest is imbued.
He also saw the need for Section 92 of the GAA to be applied in the promotion of the police officers which can later be justified.
"If you remove units such as the Anti-Cybercrime Group, Anti-Kidnapping Group and the others, our peace and order would be a mess. We would have a massive demoralization here. How do we avoid that? I do believe this provision would apply to this situation," Abalos said.
On Aug. 2, the House of Representatives approved on third and final reading House Bill (HB) 8327, which seeks to amend various sections of RA 6975 and RA 8551 aimed at making the PNP more responsive in dealing with its present-day challenges, including internal issues.
Introduced by House Speaker Martin Romualdez, Abalos said the bill is now pending at the Senate.
Abalos, meanwhile, said the promotion of those having the rank of Colonel down to Corporal has been resolved as of Sept. 14.
"I have signed all their promotion papers and we have already filed this resolution confirming the positions with the rank of police colonel down to police corporal in all organizational structures gone through by the Napolcom," he said. (PNA)