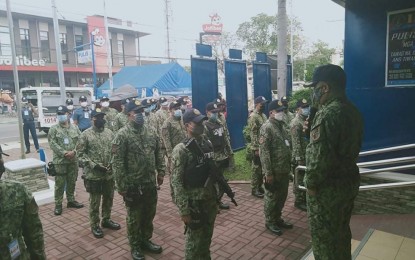 MALASIQUI, Pangasinan – Ninety-seven police personnel of the Pangasinan Police Provincial Office (PPPO) whose relatives have filed for candidacy in the Barangay and Sangguniang Kabataan Elections (BSKE) have been reassigned outside the province.
In a forum on Monday, PPPO public information officer Capt. Renan dela Cruz said this was part of the measures undertaken by the Philippine National Police to ensure a non-partisan election.
He said the order came out before the filing of certificate of candidacy (COC) from Aug. 28 to Sept. 2 and was implemented after.
Dela Cruz said there were 57,782 aspirants in the province who have filed their COCs.
"We have been conducting widespread checkpoint in the different parts of the province since the election period started," he said.
The Joint Peace and Security Coordinating Committee of the Commission on Elections (Comelec) and the Pangasinan police, he added, will again meet this week to tackle other preparations for the upcoming polls.
Dela Cruz said included in the agenda were the categorization of the villages and their recommendation to place initially three villages in Pangasinan under yellow category due to the history of violence in the past elections.
"When it comes to the areas of concern declared by Comelec, we still don't have that as we are still waiting for endorsement from Comelec which validates the recommendations for areas of concern," he said, adding he cannot disclose yet the names of the villages without the Comelec's endorsement.
The number of the villages may increase or decrease depending on the result of their meeting, he added.
Meanwhile, PPPO is asking gun owners with an expired license to deposit their firearms for safekeeping until Oct. 28 amid the implementation of a gun ban.
With the gun ban in effect, carrying guns or deadly weapons outside of the home is prohibited unless there is a certificate of authority. Even security personnel, whether legitimate or non-legitimate gun holders, should secure a certificate of authority.
Dela Cruz said they have arrested one gun ban violator from Mangaldan town recently.
From Jan. 1 to Sept. 18, the PPPO has recorded 252 deposited firearms, 551 surrendered firearms and 257 confiscated firearms. (PNA)