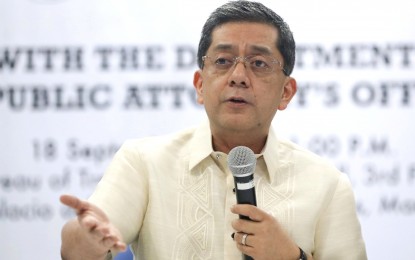 MANILA – The Commission on Elections (Comelec) en banc has unanimously approved the conduct of Barangay and Sangguniang Kabataan Elections (BSKE) in Negros Oriental on Oct. 30, but the province will be placed under the poll body's control.
In a press conference on Monday, Comelec Chair George Erwin Garcia disclosed that results of public consultations held to get residents' pulse on calls to postpone the BSKE in the province following the killing of the late Gov. Roel Degamo and nine others last March point to people wanting to hold the elections on the same schedule as that of the whole country.
He said status quo will be maintained despite the possible declaration of Comelec control in the province.
"Wag mag-alala, walang magbabago. Ang intensyon lang naman ng Comelec ay maayos 'yung pagka conduct namin ng halalan. At least ito (ay) proactive action... hindi naman exaggerated na mas marami pa 'yung armed personnel kesa tao (Don't worry, nothing will change. The sole intention of the Comelec is to ensure the organized conduct of polls. At least this is a proactive action... this is not an exaggerated [act of deploying] more armed personnel than the citizens)," he said.
However, Garcia refrained from giving details on how the setup will be different since the poll body is still finalizing the official guidelines.
He said they intend to implement a uniform standard for a more predictable Comelec control measure during the BSKE.
During the same briefing, Commissioner Aimee Ferolino-Ampoloquio cited the grounds for declaration of Comelec control which include history or current intense rivalry; previous declaration of Comelec control; incidents of politically-motivated violence involving aspirants, candidates, and/or their supporters; violence facilitated by private armed groups; and serious armed threats posed by communist terrorist groups.
Ampoloquio said the poll body targets to release the guidelines before the end of this month.
She said Comelec may receive the final list of areas of concern in the country within the week.
"We are still waiting for the consolidated report from the PNP (Philippine National Police) and AFP (Armed Forces of the Philippines) sa kanilang (from their) intelligence group," she said.
Ampoloquio said the poll body cannot "generalize" classifications as situations vary per town and province.
Garcia also reminded the public that status of areas may still change before Oct. 30 depending on the progress on the ground.
Meanwhile, details of the special elections in the third district of Negros Oriental are yet to be finalized and announced, authorities said.
The Comelec earlier confirmed the conduct of special polls in the province on Dec. 9 to replace former Rep. Arnolfo Teves Jr. who was expelled by the House of Representatives (HoR) last Aug. 16 for "disorderly behavior and for violation of the Code of Conduct of the House of Representatives."
The lawmaker applied for a leave of absence in the House to seek for a political asylum status in Timor-Leste, but was denied.
He is facing several charges, including that of the murder of Degamo, and three other killing incidents in the province in 2019. (PNA)