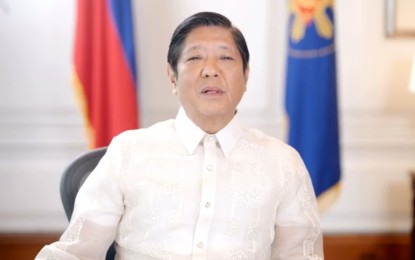 MANILA – President Ferdinand R. Marcos Jr. on Tuesday hailed the government's 1.8 million workers for their commitment to providing quality service to all Filipinos.
This, as Marcos joined the "meaningful and joyous" celebration of the 123rd Philippine Civil Service Anniversary in the country.
"Today, we not only commemorate the anniversary of the Civil Service Commission, but also honor the dedication and commitment of all individuals who serve in the government," Marcos said in a video message uploaded on the official Facebook page of Radio Television Malacañang.
"We look back to the past 123 years to recount the colossal progress made by those who served the nation before us and we also look ahead to anticipate and prepare for the future of public service," he added.
Marcos thanked all civil servants for their tireless work, excellence and integrity "to deliver the quality service that all Filipino deserve."
"Thank you for your dedication despite the numerous challenges that we experience in our respective occupations. Let us strive harder in achieving our united goal of providing a better future for our country," he said.
Marcos also thanked the Civil Service Commission (CSC) for its steadfast commitment to transforming the human resource and organization of the Philippine bureaucracy.
The President also hoped that the government, with the help of the CSC, would be able to hone "agile and future-ready servant heroes."
The CSC led the celebration of the 123rd anniversary of the Philippine Civil Service, pursuant to Presidential Proclamation 1050 issued in 1997 which declares the month of September as Civil Service Month.
In 2021, the CSC introduced a 10-year overarching theme, "Transforming Public Service in the Next Decade: Honing Agile and Future-Ready Servant-Heroes," reflecting the collective experience of the government workforce in the new normal, and in pushing for digital transformation and innovations to uphold public service excellence and continuity.
This year's celebration of the Philippine Civil Service celebration Anniversary focuses on the importance of cultivating dynamism among government workers to foster sustainable management and strengthened organizational resilience. (PNA)