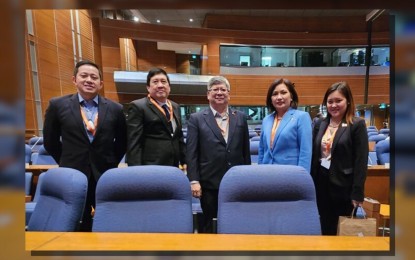 MANILA – The Bureau of Immigration (BI) on Tuesday underscored the need to explore technological trends across the globe to improve the country's border management.
BI Commissioner Norman Tansingco led the country's delegation to the 18th Symposium on the International Civil Aviation Organization (ICAO) Traveller Identification Programme (TRIP) and Joint International Criminal Police Organization (INTERPOL) Biometrics forum held in Montreal, Canada last Sept. 12 to 14.
"The learnings in this important activity will be included in our direction setting for us to be able to elevate border management in the Philippines," he said in a statement.
He said the new trends involve intensified collaboration between international immigration agencies.
Tansingco earlier called for the passage of the immigration modernization law to provide quality service to both the Filipinos and foreigners, as well as help the agency implement effective measures against increasing immigration-related crimes like illegal recruitment and human trafficking.
Interpol red notice
The BI, meanwhile, reported the arrest of a 27-year-old Chinese national allegedly involved in illegal gambling, with the help of Interpol's red notice.
The notice provided supplementary information on the suspect's derogatory record abroad.
According to the BI, Jiang Ning was nabbed on Monday following his attempt to depart for Malaysia.
Records show that Jiang has been wanted in China for setting up a gambling group operating 14 illegal platforms both in their country and in the Philippines.
"His group was said to have operated from 2014 to 2021, and have induced more than 100,000 Chinese to engage in gambling activities," the BI said.
The foreigner, who is now under BI custody in Bicutan, Taguig while awaiting deportation, is facing a maximum penalty of 10 years imprisonment in China for opening an illegal casino. (PNA)