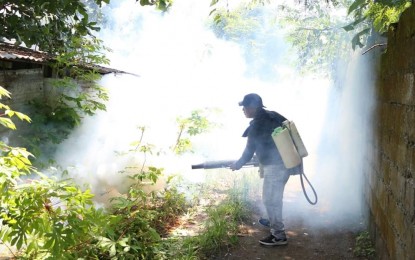 TACLOBAN CITY – Eastern Visayas region has been recording a decline in dengue infections at 2,653 cases from January to middle of September this year, lower by 44 percent than last year, the Department of Health (DOH) regional office here reported on Tuesday.
This year's cases are fewer than the 4,719 recorded in the same period in 2022, the DOH said in its latest disease surveillance bulletin.
Of the total cases this year, nine died while 2,415 were hospitalized as victims suffered sudden high fever, severe headache, pain, rashes and bleeding.
More than 1,100 cases are in Leyte province, according to DOH.
Leonido Olobia, DOH Eastern Visayas regional dengue program manager, attributed the decrease in infections to early fogging operations as advised by DOH to local authorities.
He said there has been aggressive search and destroy activities in areas with clustering of cases.
These activities have reduced the number of cases contrary to the trend seen in January 2023 where 210 dengue cases were recorded, or 19 percent higher than in the previous year.
"In the past, the number of cases reduced every two years. In recent years, there's no more established pattern of cases due to changing weather, but we are happy to see that there is a reduction this year," Olobia said in a phone interview.
The health department reminded the public to carry out dengue prevention through the "5S" strategy, especially since the rainy season has started.
The 5S strategy against dengue includes search and destroy, self-protection measures, seek early consultation, say yes to fogging, and start and sustain hydration.
The DOH also urged city and town mayors to regularly organize cleanup campaigns with a focus on destroying mosquito-breeding places in their areas. (PNA)