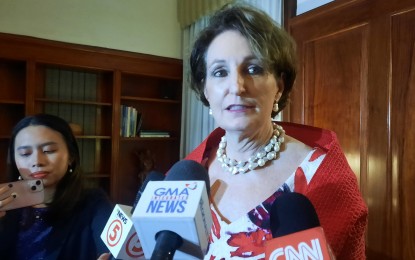 MANILA – The United States Embassy in Manila has raised concern over the reported coral destruction at the Rozul Reef and Escoda Shoal in the West Philippine Sea.
In a tweet on Tuesday, US Ambassador MaryKay Carlson said Washington DC will continue to work with allies, referring to the Philippines, in protecting natural resources.
"Troubling (Philippine Coast Guard) and (Armed Forces of the Philippines Western Command) reports on coral destruction around Rozul Reef and Escoda Shoal," she said.
"Habitat damage harms ecosystems and negatively affects lives and livelihoods. We are working with our (friends, partners, allies) to protect natural resources," she added.
Before Carlson's remarks, Japanese Ambassador Kazuhiko Koshikawa had also expressed serious concern over the report as he retweeted a news that quoted AFP Western Command chief Vice Admiral Alberto Carlos as saying that the destruction was due to suspected Chinese harvesting of corals.
"Very alarming news. Our oceans are the lifeblood of our planet, & coral reefs are its colorful heartbeats. Let's preserve & protect these vital ecosystems for generations to come," Koshikawa said over microblogging site X (formerly Twitter) on Sunday.
The said tweet prompted a response from the Chinese Embassy in Manila, which labeled the news as "disinformation" while chiding Japan for its recent release of treated Fukushima water into the sea.
The Philippine Coast Guard (PCG) confirmed on Monday the "extensive" damage on the seabed of Rozul Reef and Escoda Shoal, saying its recent surveys showed that the marine ecosystem in the Philippines features "appeared lifeless, with minimal to no signs of life."
At Escoda Shoal, the PCG suspects deliberate activities may have been undertaken to "modify the natural topography of its underwater terrain" given the visible discoloration of its seabed. (PNA)