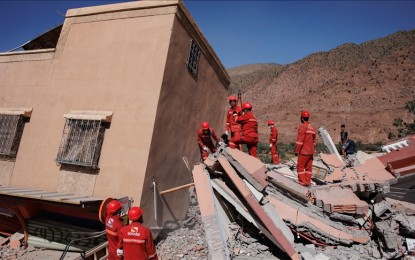 RABAT, Morocco – The International Monetary Fund (IMF) will provide Morocco with a USD1.3 billion loan following the Sept. 8 earthquake that killed thousands in the North African country.
"The IMF concluded a staff-level agreement with Morocco to provide USD1.3 billion in financing over the long term," IMF Managing Director Kristalina Georgieva said in statements cited by the Moroccan state news agency, MAP.
Georgieva said the loan will be used to back Morocco's efforts "in the face of climate-related risks."
She, however, said the loan will still need to be approved by the IMF board during its annual meetings in the Moroccan city of Marrakech on Oct. 9-15.
Morocco was struck by a magnitude 7 earthquake on Sept. 8, killing nearly 3,000 people and injuring thousands, according to official figures.
Marrakesh, 72km from the quake's epicenter, suffered some damage in its ancient Madinah quarter from the earthquake, Morocco's strongest-ever in a century.
Georgieva said the IMF and the World Bank staff are closely working with the Moroccan authorities to "assess Marrakech's capacity to host the 2023 [IMF-World Bank] Annual Meetings." (Anadolu)