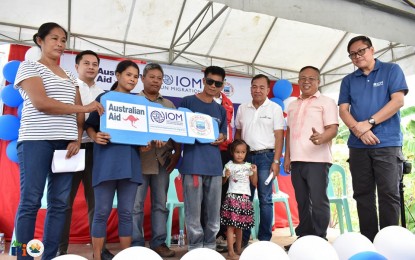 LEGAZPI CITY – Three disaster-proof housing units dubbed as "safe rooms" were received by housing beneficiaries who were badly affected by past typhoons in Pio Duran, Albay province early this week.
In an interview on Wednesday, Lorena Quising, Albay provincial information officer, said the units were constructed through the International Organization for Migration (IOM) Philippines, with funding from the Australian government in partnership with the provincial government.
"Aside from being affected by the calamity, the beneficiaries went through a strict screening. The criteria also include those individuals with children who are part of the vulnerable sector. Stakeholders were also included in the selection of recipients," she said.
Quising said the resilient houses are located in Barangay Caratagan, adjacent to an existing resettlement site, offering shelter and protection in the face of storm surges and typhoons.
"The house is good enough to accommodate up to 35 people based on the simulation done by IOM. As included in the signed agreement if there is a calamity, the neighboring residents can evacuate there since it is safe," she said.
The resilient houses are equipped with advanced safety features to withstand extreme weather conditions and provide a haven during emergencies.
"It is made from aggregates from Mayon Volcano, setting a new standard for Albay's relocation program and house construction, and equipped with a rainwater collector facility, which ensures sustainability in case of water supply loss," Quising said.
Sisa Evañez, one of the beneficiaries, thanked the IOM, the local government unit (LGU) of Pio Duran, and the provincial government of Albay as she now has a home she can call her own.
"I tried to work and become a domestic helper abroad but I failed to own a house. I suffered a miserable life with my former boss. I suffered a lot, but I was able to escape. I went home with nothing. With all the suffering, I never expected that I would have my dream house," she said.
Evañez said that with the safe room, her family would never have to evacuate again.
Vicente Borjal, another recipient, also thanked the government and the IOM who helped to make their dream to have a home a reality.
Pio Duran Mayor Alan Arandia said the LGU will sponsor the extensions of each house at the cost of PHP50,000.00 per unit.
The turnover ceremony for the housing units was attended by officials of Pio Duran, the provincial government of Albay, IOM Philippines, and the Department of Social Welfare and Development-Bicol, among others. (PNA)